Benjamin Israel named recipient of Edwards Scholarship
Benjamin A. Israel, a 2006 graduate of Rumson-Fair Haven Regional High School in Rumson, N.J., was recently named the first recipient of the College of William and Mary's Michael Hardy Edwards Scholarship.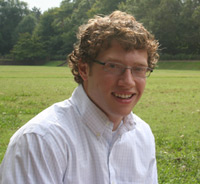 The Edwards Scholarship honors the memory of William and Mary alumnus Michael Hardy Edwards, a Garden City, N.Y., native who died on September 11, 2001, in the attacks on the World Trade Center. It was established in 2002 by his wife, Jackie Edwards, and has been funded by family members and friends.
The scholarship, which provides $5,000 a year for four years so long as recipients remain in good academic standing, is awarded to an incoming freshman from the Greater New York area who best exemplifies the characteristics of Michael Hardy Edwards—character, academic achievement, and athletic participation in high school. Michael, 33 at the time of his death, was a successful businessman who, after graduating from William and Mary with a degree in government in 1990, joined Sandler O'Neill and Partners as a bond salesman, working his way up to managing director. He was also an accomplished athlete—a champion high school hurdler as well as an avid enthusiast of extreme sports.
Israel, a National Honor Society member, was named the 2006 recipient of the New Jersey Scholar-Athlete Award, which recognizes outstanding scholastic achievement, athletic performance, and leadership within the school and community. A four-lettered varsity hockey player as well as captain of the team his senior year, Israel was also honored with Allen D. Van Anda Sr. Award for his team spirit and dedication to the varsity ice hockey program. During his high school career, he played baseball and ran cross country as well.
Israel also earned the Social Studies Departmental Achievement Award, given annually to the outstanding senior in Social Studies, and the Historic Association of Fair Haven Award, presented to a senior from the borough of Fair Haven who demonstrates excellence in history and social studies through his or her four years of study at Rumson-Fair Haven Regional High School.
Active in the Wall Street Finance and Economics Club and a participant in the Federal Reserve Challenge, Israel explained in his application for the Edwards scholarship that, after reading the stories about Michael Hardy Edwards and then visiting Ground Zero to look for his name on the memorial, he came to the realization that Michael "is what I strive to be."
Jackie Edwards noted that Israel's visit to Ground Zero really touched her. "I was so honored that he took time out of his schedule, even before he knew he was in the running, to do that," she said.
Edwards was also moved by Israel's stated intention to help support the scholarship even if he didn't win it, and she was pleased with his interest in finance. "His spirit of volunteering is impressive," Edwards said. "I was hoping that the first winner would truly emulate Michael in his love of both business and sports."
For his part, Israel said that he's excited to work with the College to turn this scholarship into another long-standing William and Mary tradition. "Jackie's enthusiasm about how the College affected Michael's life made me more excited to get on campus," he said. "In the future, I hope the scholarship will be able to do the same for someone else."