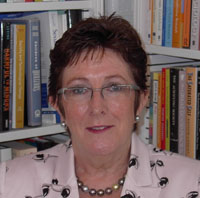 Kathleen F. Slevin
Emeritus Professor
Education
B. Soc. Sc., University College, Dublin
M.A. and Ph.D., University of Georgia
Areas of Specialization
Aging, Gender and Inequalities
Honors and Awards
Phi Beta Kappa Award for Advancement of Teaching
Distinguished Educator Award
State Council for Higher Education Outstanding Faculty Award
Chancellor Professorship
Thomas Jefferson Award
Thomas Ashley Graves, Jr. Award
Background
The major focus of my research is to highlight age as a core site of social inequality. I explore age relations and their intersections with gender, race, class, and other social hierarchies. Within this focus I have researched and written about retired professional African American women and about old gays and lesbians.
Courses Taught
Principles of Sociology; Sociology of Aging; Sociology of Work
Research
Professor Slevin has published numerous articles in a wide variety of sociology journals. Her most recent publications include three books:From Stumbling Blocks to Stepping Stones: The Life Experiences of Fifty Professional African American Women, New York University Press, 1998 (with C. Ray Wingrove); Gender, Social Inequalities, and Aging, Altimira Press, 2001 (with Toni M. Calasanti);part of the Gender Lens Series ;Age Matters: Realigning Feminist Thinking, Routledge, 2006. With her co-author Toni Calasanti, she is currently working on a second edition of Gender, Social Inequalities, and Aging.