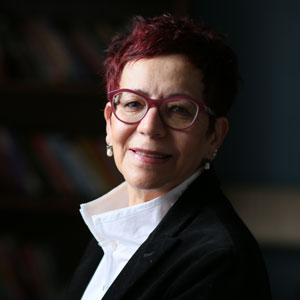 Gul Ozyegin
Professor Emerita, Sociology and Gender, Sexuality, and Women's Studies
Email: [[gxozye]]

Research Areas
Gender and Sexuality, Sociology of Work and Occupations, Muslim Cultures, Comparative Sociology, and Globalization
Education
B.S. in Sociology, METU, Turkey
M.A. and Ph.D. in Sociology, Temple University
Honors, Awards, and Fellowships
Governance Award for extraordinary contributions to the academic governance and life of the Faculty of Arts and Sciences
Plumeri Award for Faculty Excellence
Margaret L. Hamilton Professorship
Fellowship, The Netherlands Institute for Advanced Study in Humanities and Social Sciences.
Courses Taught
Theory, Qualitative Sociology, Comparative Sociology, Comparative Studies in Gender and Work
Research
Her main research topics are gender and class in domestic labor; sex, love, selfhood, and the youth; and intersections of gender, generation, and (un)belonging among different generations of Turks in Germany.  She is the author of Untidy Gender, published by Temple University, and New Desires, New Selves: Sex, Love, and Piety among Turkish Youth (2015, NYU). She is also editor of Gender and Sexuality in Muslim Cultures (2015, Ashgate/Routledge Press).Her work appeared in edited volumes and she has published articles in such journals as European Journal of Women's Studies, and Social Identities: Journal for the Study of Race, Nation, and Culture.