Poquoson named state's healthiest community
POQUOSON -- The city of Poquoson - with its low crime rates, low poverty rates and low prevalence of sexually transmitted diseases - snagged the top spot in a new ranking of healthy Virginia communities, the College of William and Mary announced Tuesday.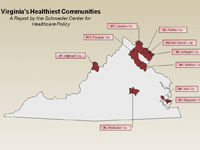 A study by the university's Schroeder Center for Healthcare Policy measured death rates related to cancer, heart disease and overall mortality, as well as rates of poverty, obesity and smoking, to come up with a ranking of the top 10 healthy Virginia communities.
The rest of the top 10 are, in descending order, Fairfax County, Loudoun County, Falls Church, Arlington County, Powhatan County, Highland County, York County, Stafford County and Fauquier County.
Although 22.5 percent of Poquoson residents smoked in 2005, according to the study, there were no instances of violent crime and no traffic deaths reported during that year. The city's population was about 11,800 in 2005.
This is the first time that the center has done such a ranking.
William and Mary plans to study the top 10 localities to see whether they're doing something different from other communities, Schroeder Center director Louis Rossiter said. Public policies can influence communities to be healthier, he said.
For more information, visit The Schroeder Center for Healthcare Policy.