The Impact of COVID-19 on College Students Studying Abroad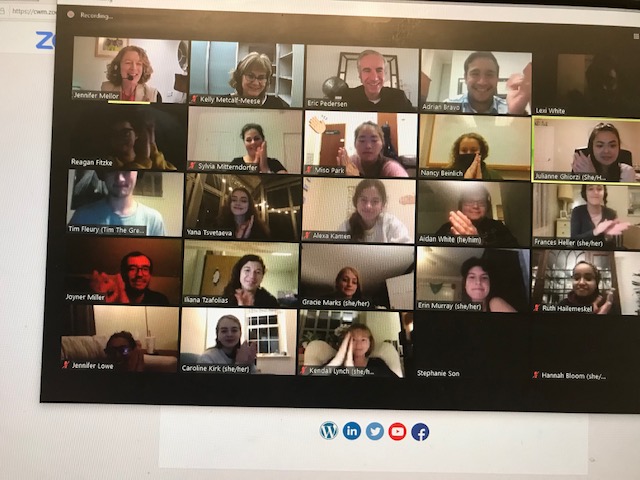 On Wednesday, October 28, the Schroeder Center for Health Policy concluded its multidisciplinary speaker series on the COVID-19 pandemic with a virtual talk from Dr. Eric Pedersen, Associate Professor of Psychiatry and Behavioral Sciences from the Keck School of Medicine at the University of Southern California and adjunct behavioral scientist at the RAND Corporation. Dr. Pedersen's  research focuses on the areas of young adult/adolescent substance use and co-occurring mental health disorders.  His talk, titled "The Impact of COVID-19 on College Students Studying Abroad," was hosted by Professor Adrian Bravo from William & Mary's Department of Psychological Sciences.
Dr. Pedersen's talk described his study team's recent research related to alcohol usage and mental health among college students studying abroad.  Dr. Pedersen said that 1 in 10 American college students study abroad at some point in their undergraduate career, which is a 150% increase over the last 15 years. Last academic year alone, nearly 333,000 students completed study abroad programs.  Though studying abroad has both cultural and academic benefits, such as increased global awareness and preparation for international careers, Dr. Pedersen noted that alcohol usage and mental health can be major concerns for U.S. students studying abroad.
The study, as described by Dr. Pedersen and funded by the National Institute on Alcohol Abuse and Alcoholism (NIAAA), included over 1,300 students from 45 different colleges/universities across 24 states and Washington, DC. The participants were studying abroad in one of the 12 most popular countries for study abroad programs, such as Italy, Spain, the United Kingdom, and France. Dr. Pedersen explained that students were split into two cohorts:  1) students studying abroad in the Fall 2019 semester and 2) students studying abroad in the Spring 2020 semester. Initially, Dr. Pedersen and his colleagues planned to give the students a baseline survey two weeks prior to their departure followed by a number of surveys both during their study abroad experience and in the months following their return home.  
Students who studied abroad during the Fall 2019, the first cohort, were able to complete their study abroad programs. However, COVID-19 forced students in the Spring 2020 cohort to return home in the middle of the study. To accommodate this unexpected situation, Dr. Pedersen and his colleagues quickly modified the study surveys to include questions about the effects of the pandemic, both on attitudes and behaviors, for the Spring 2020 cohort.
During his talk, Dr. Pedersen described many of the study's research findings, focusing in particular on those students in the second cohort whose study abroad experiences were interrupted by COVID.  Fortunately, according to Dr. Pedersen, most students in the Spring 2020 group were able to take online classes and transfer their credits, and about 85% reported that they still expected to graduate on-time. 
Looking at comparisons across the two student cohorts, the research team found that the students who studied abroad in Fall 2019 reported higher levels of alcohol usage and binge drinking during their last month abroad and upon return home than did students who studied abroad during the Spring 2020. However, the students in the Spring 2020 cohort reported higher levels of depression and anxiety upon return home in the first month than did students in the Fall 2019 cohort.
The study also found that the most common worries among the Spring 2020 group upon return to the U.S. were fears about contracting COVID-19 and whether their tuition and fees for the shortened study abroad programs would be refunded. In the third month back in the U.S., students in the Spring 2020 cohort began reporting more positive thoughts, including feeling more appreciative of things usually taken for granted like quality time with family. Fortunately, most of the students, over 77%, in the Spring 2020 cohort did not contract COVID-19, with an additional nearly 18% reporting that they did not know if they had contracted COVID or not.
Dr. Pedersen also discussed five themes in the responses to open-ended questions of the Spring 2020 cohort participants. The first theme was students reporting a feeling of having a unique perspective on the COVID-19 pandemic, as a result of their having to unexpectedly evacuate their host nations.  In addition, they perceived differences in their own experiences related to COVID compared to students who simply remained in the U.S. as the disease spread. The second theme was emotional and behavioral health reactions, where students reported emotions such as anxiety, depression, disappointment, confusion, and anger, as well as substance use. The third theme, which was talked about by the most students, was the feeling of loss, with many students describing missing out on unique, once-in-a-lifetime, study abroad experiences as well as financial loss and lost relationships. The fourth theme was stress related to school, new routines, and even contracting COVID-19.  In describing the fifth theme, Dr. Pedersen reported how students focused on the positive aspects of their shortened study abroad experiences. Students, for example, described feeling grateful for the new perspectives they gained abroad and for the support they received from their home institutions, and many students said they were excited to eventually start traveling again.
The COVID-19 pandemic has been difficult for everyone, but the struggles faced by students who were studying abroad when the disease went global were unique. Though Dr. Pedersen was forced to alter his study's research design as a result of the pandemic, his findings play a pivotal role in understanding the unprecedented situation U.S. students encountered while studying abroad.