This article first appeared in the 2010 President's Report. Illustrations by Robert Meganck, Communication Design Inc.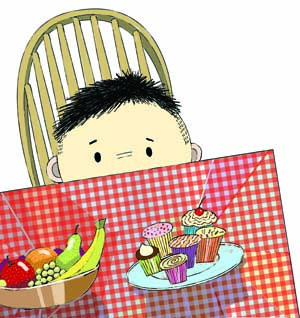 In the national battle against obesity, William & Mary's Schroeder Center for Health Policy is weighing in.
The center garnered headlines in May with the release of its study showing that the closer children live to fast food restaurants, the more likely they are to be overweight, even after adjusting for the family's socioeconomic status.
The study has added to the national debate as federal policymakers and local PTAs alike grapple with the issue of childhood obesity and its danger to health. Researchers say the problem has reached epidemic proportions, with young people consuming steady diets of video games and high-fat foods.
As President Barack Obama created the White House Task Force on Childhood Obesity, First Lady Michelle Obama rolled out her "Let's Move!" campaign and engaged a group of youngsters to help plant a vegetable garden on the South Lawn of the White House.
In the Williamsburg area, the Schroeder Center and its director, Jennifer M. Mellor, who is also a professor of economics at William & Mary, joined forces in 2005 with the local school system and a nonprofit community health foundation to help evaluate a newly created wellness program within the Williamsburg–James City County Public School System.
The School Health Initiative Program, or SHIP, educates students, teachers and parents about healthy habits and lifestyles. With a broad reach and range of activities, SHIP is helping to change school culture by using everything from physical activity to teaching pupils about the phases of the moon to replacing every cafeteria's deep fryer with a convection oven.
Because of SHIP, students are learning yoga and healthy cooking techniques in after-school clubs, teachers are incorporating movement in daily lessons, and parents are substituting cupcake parties in classrooms with celebrations featuring yogurt smoothies and carrot sticks with low-fat dip.
Since the start of this collaborative effort between the local school system and the Williamsburg Community Health Foundation, the Schroeder Center has helped evaluate this program that touches the lives of 10,000-plus public school students. In 2006, the center released a lengthy report on baseline health and wellness surveys conducted prior to SHIP's implementation. Earlier this year, the center conducted a study on the amount of physical activity SHIP is introducing into the classroom through newly adopted teaching techniques. And starting this fall, the Schroeder Center assumed an increased role in the evaluation of SHIP's effectiveness under a year-long contract with the Health Foundation. The goal of evaluation activities, which include survey design and analysis, is to track how well the program is working.
"Are students participating in more healthy behaviors? Do they have increased health knowledge and awareness? Are they healthier? These are the questions that our studies can answer," Mellor says. "The answers are critical because the school district and the foundation need to know if they're using their limited resources in productive ways."
As part of this year's contract, William & Mary faculty will supervise a team of undergraduates and public policy graduate students. Together, the group will design and field surveys of parents and children and analyze survey data along with other outcome measures.
"It's very exciting for William & Mary students and the College's Schroeder Center to be involved with SHIP," Mellor says. "We have a lot to offer, and our students have a lot to gain."
The center's work with SHIP not only gives greater visibility to the College but also provides hands-on research opportunities for William & Mary graduate and undergraduate students and serves as a vehicle to further faculty research.
"The center is very skillful with analysis of data, and that's important with such a major [program] investment," says Williamsburg Community Health Foundation President Jeanne Zeidler M.A.Ed. '76, who also served as Williamsburg's first female mayor from 1998 to 2010.
The foundation has put up more than $4 million to initiate and run SHIP. "Certainly, to tell if you're being effective, you must have a skilled and independent evaluator to provide feedback. So we're really pleased to have the College of William & Mary, through the work of the Schroeder Center, as partners in the SHIP program."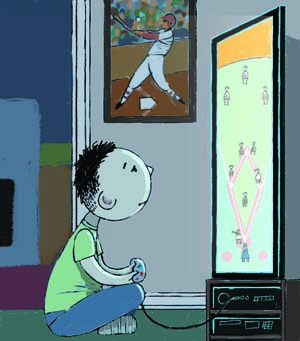 Influencing Health Policy
Tucked along a main corridor of Morton Hall within the College's Thomas Jefferson Program in Public Policy, the Schroeder Center supports interdisciplinary research in health policy, and the faculty, students and community organizations engaged in such research. Faculty members affiliated with the center have strengths and expertise in economics, government and public policy, among other fields. Past and current studies have focused on health care spending, including Medicare program utilization and the impact of economic differences on people's health.
The International Journal of Pediatric Obesity is poised to publish the Schroeder Center's May 2010 study showing that the link between proximity to fast food restaurants and obesity is unrelated to income. And Health Economics is slated to publish a Schroeder Center study showing a link between increases in state cigarette taxes and body mass index (BMI) – a measure of body fat – of children whose mothers smoke. The link shows that childhood obesity is affected not just by genetics, but also by the environment in which children grow up. This study provides evidence that the environmental factors that have an impact on parents' health behaviors can ultimately affect the health and health behaviors of their children.
Mellor, who holds a doctorate in economics from the University of Maryland at College Park, has conducted numerous studies on how environmental factors such as community socioeconomic status and social capital influence health. Because of her expertise, the Williamsburg Community Health Foundation officials sought her out for the steering committee that initiated SHIP. The relationship has blossomed, with the Schroeder Center and William & Mary students involved in pivotal aspects of the program's setup and evaluation along the way.
"When a lot of the numbers about the rise in childhood obesity were just coming out, many school districts were scrambling to create wellness programs," Mellor says. This was around 2005, just after Congress mandated that all school districts receiving national school lunch program funds develop "school wellness policies," or locally based plans to promote better nutrition and more physical activity through schools.
"Williamsburg–James City County was ahead of the curve," Mellor continues. "In addition to well-thought-out programs and policies, they directed significant financial and personnel resources to tackle the problem – something most school districts around the nation have been unable to do."
How serious is childhood obesity? According to a May 2010 report issued by the White House Task Force on Childhood Obesity, one in every three youngsters in the United States ages 2 to 19 is overweight or obese. That trend is mirrored both within Virginia and within the Williamsburg area, data have shown. The 2007 National Survey of Children's Health found that 31 percent of Virginia's youth ages 10 to 17 were overweight or obese. And in Williamsburg, 2006 data compiled in part by the Schroeder Center as a baseline measure for SHIP showed more than a third of students were overweight.
"That's a huge percentage," remarks Denise Corbett, SHIP's coordinator. The finding also underscored the critical need for such a program locally, she says. School nurses were becoming alarmed by the number of students with serious health problems such as asthma and diabetes, according to Corbett. "They were seeing kids at the third-grade level who were morbidly obese," she says.
Obesity generally is defined as a person having excess weight for his or her height, as measured by BMI. In children, tables formulated by the Centers for Disease Control and Prevention (CDC) that compare BMI among children of the same age and gender are used to obtain a percentile ranking. A child is considered overweight if he or she ranks between the 85th and 95th percentile and obese if ranking above the 95th percentile.
"The rise of childhood obesity is pretty striking," Mellor says. "It has more than tripled in the past 30 years. That's the concern that everybody's motivated by, because childhood obesity is linked to diabetes among kids, asthma, possibly to cardiovascular problems, lost school days, additional health care spending, and obesity in adulthood.
"You are more likely to be obese as an adult if you were obese as a child," Mellor continues. "So kids who are obese today potentially are looking at a whole lifetime of health problems such as high blood pressure, high cholesterol, heart disease, and adult onset diabetes."
Encouraging Healthy Behaviors
An early progress report on SHIP's first two years suggests that obesity rates among middle school students are declining, a finding that bodes well for the program's impact and future.
Already, SHIP has received national recognition. It was one of the featured programs at a CDC conference on "best practices" for childhood obesity prevention programs. And the National School Boards Association included SHIP in its Magna Best Practices Database, which annually highlights a select number of school programs it deems exemplary.
Most importantly, SHIP's influence is credited with helping to change behaviors of students and families for the better.
"I think I was healthy before, but I would snack unhealthy," says Alison Hummel, a physically active senior from Lafayette High School (Williamsburg). The 17-year-old lifeguards during the summer and is involved in three different sports during the school year. "I would come home and pig out on a lot of junk food."
SHIP "made me aware of what I was eating," she explains. "Now, I go home and tend to have fruit or carrots or something healthy. I drink water and juice over soda."
Alison joined her high school's Student Health Advisory Council, or SHAC, which is dedicated to reinforcing the message of healthy choices to the students. The group's seminars are taught by the school nurse and William & Mary students.
SHAC hosted a "Smoothie Day" at the school during which members gave out free samples of low-sugar, fat-free yogurt-and-berry smoothies from a local shop. "We gave the samples to show what they could have for breakfast that's healthy. A lot of kids don't have breakfast in the morning, which is unhealthy. So they had these smoothies and that gave a kick to their day."
Alison's mother, Julie Hummel, says SHIP helped change the mindset of parents, many of whom were sending "sweets, candy treats, cakes and cupcakes to school for their child's birthday," or holding ice cream sundae parties for the class. "They're not realizing that there are 25 kids in the class, and there are 25 parents doing the same thing, so it all adds up. It's not good for our kids."
Instead of high-calorie sweets, parents now bring pretzels, fruit, and veggies and dip, Hummel says. "The kids were grumbling at first, but then they got used to it. It was a good decision."
The Schroeder Center's involvement with SHIP has also had an enormous benefit for William & Mary students.
"Our students come here looking for opportunities to discover new things and to work closely with faculty and share ideas. This project helps give them that," Mellor states. For some students, working on SHIP research has helped them define and refine their career choices.
"I had read plenty of research in academic papers before this," says Travis Triggs, a sophomore from Arlington, Va., who spent several weeks in third- and fourth-grade classrooms observing and recording the level of students' physical activities for a Schroeder Center assessment for SHIP during spring 2010. "This experience allowed me to learn about social science research firsthand. It has made me consider a career in this field."
Triggs says he was drawn to the study after taking Economics of Bad Behavior, a freshman seminar taught by Mellor that addressed how economics can help explain how individuals make choices, including seemingly poor choices such as smoking and abusing drugs. A portion of the course dealt with newly emerging studies on the economics of obesity, exploring the causes, consequences and proposed solutions to problems like overeating and limited physical activity.
Public policy graduate student Amy Haldeman '07, of Greencastle, Pa., helped compile the data and assisted Mellor with portions of the final report last spring. The experience, she says, reaffirmed her career direction. "It confirmed my interest in childhood and maternal health, as well as community health issues," says Haldeman, who majored in theatre as a William & Mary undergraduate and is on track to receive her master's degree in December. She is also completing a postbaccalaureate, premedical curriculum and plans to pursue a medical degree after working in the health policy field for a few years.
"As an educator, I've seen firsthand how students benefit from being exposed to research," Mellor concludes. "The research process helps you ask good questions. It helps you develop problem-solving skills, because research designs aren't always nice and clean. You don't always have access to the data you want. So you may have to be creative when you run into a problem. Those are great skills for anyone to learn in a very supervised environment."