Policies to Address Social Determinants of Health and Telehealth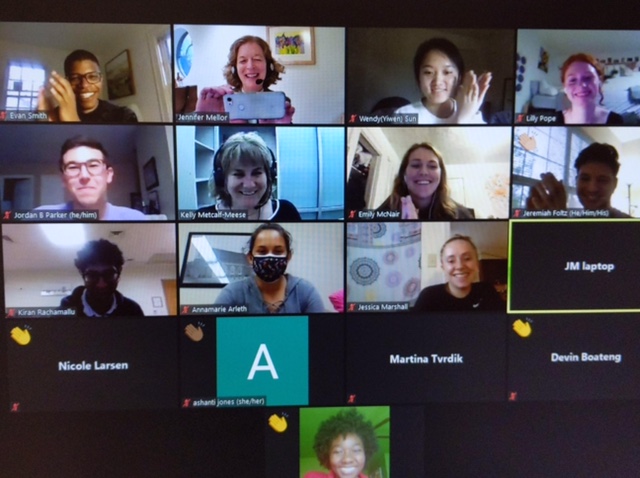 The Schroeder Center for Health Policy recently welcomed Krista Drobac for a virtual talk on
"How to Use Public Policy to Address Social Determinants of Health & Access to Telehealth."
Ms. Drobac, who holds an MPP from Harvard's Kennedy School of Government, has over 20 years of experience in federal and state government and in public affairs. She is currently a Partner at Sirona Strategies, which is a consulting firm "at the intersection of health care policy, politics, and business." She previously worked as Director of the Health Division at the National Governors Association's Center for Best Practices; Senior Advisor at the Centers for Medicare Medicaid Services (CMS); Deputy Director of the Illinois Department of Healthcare and Family Services; and Legislative Assistant (Health) for Senate Democratic Whip Richard Durbin.
In her presentation, Ms. Drobac discussed her experience in working to expand access to telehealth. In 2013, for example, she helped co-found the Alliance for Connected Care, a coalition focused on finding policy solutions to limited access to telehealth. Ms. Drobac explained that the work of the Alliance for Connected Care is a great example of the tactics of success which she believes are integral to policy-making: monitoring for policy issues, building a public profile, using direct advocacy, engaging in thoughtful leadership, and building partnerships.
 When the Alliance for Connected Care was initially created, access to telehealth was not high on the national policy agenda. Ms. Drobac said that the Alliance's first goal was to build a consensus that showed the Alliance was not an organization working only on behalf of corporate actors. Ms. Drobac explained that consensus building involves four main factors: a common understanding of the problem, a common purpose, a common vision, and camaraderie. These four key elements of consensus can be applied to many other policy areas, but in the case of the Alliance for Connected Care, Ms. Drobac said, that consensus was achieved by finding partners outside of the healthcare field. The Alliance now partners with food advocates, housing advocates, public health advocates, and many other actors whose policy goals can be connected to telehealth.
Ms. Drobac said that another important reason to find non-healthcare provider partners was that the issue of access to telehealth is directly linked to social determinants of health. As Ms. Drobac explained, governments fund social programs "vertically," allocating funding amounts, for example, to specific issues such as housing, food, and healthcare. But people live "horizontally," meaning that these issues are all interconnected in our everyday lives. Therefore, Ms. Drobac advocated that groups from all across the policy world work together with a common purpose.
This strategy has helped the Aligning for Health coalition, which Ms. Drobac chairs, achieve considerable success. The coalition's mission is to eliminate barriers to addressing social determinants of health. The coalition and its partners helped support the Social Determinants Accelerator Act in the U.S. Congress, which would allow state and local governments to apply for funds which would go directly to improving social determinants of health. Provisions of this legislation are now included in the FY 2021 federal appropriations package. Currently, Aligning for Health is lobbying Congress to pass the bipartisan Leveraging Integrated Networks in Communities (LINC) to Address Social Needs Act. If enacted, this bill would help build statewide collaborations between physicians and social service providers in order to address social determinants of health related to food, housing, child development, job training, and transportation.
Ms. Drobac concluded her presentation by answering questions from William & Mary faculty and students about social determinants of health, telehealth, and her role as a lobbyist. Though her presentation was primarily focused on health policy, the strategies described by Ms. Drobac such as her tactics of success, the elements of consensus building, and recognizing the idea of people living "horizontally" could be applied to every area of policymaking. Those who attended Ms. Drobac's presentation are now well-equipped to create positive change in their communities through strategic policy partnerships.