Building Health Policy Analysis Skills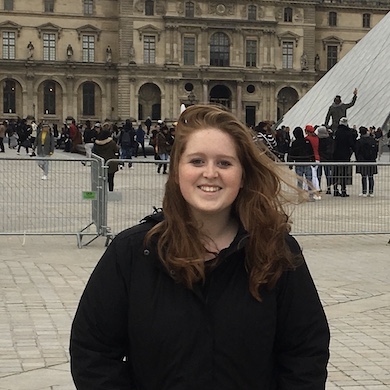 Maggie Delaney, '21, had a plan. In the summer between her junior and senior years, she would secure an internship where she could implement the lessons she learned in her classes at William & Mary. A Public Policy major from Manchester, NH, Maggie had taken the required research methods courses, and now wanted hands-on experiences using those skills. Then the pandemic happened. 
"Once the crisis began, many of the organizations I applied to work with were forced to cancel their internship programs. At that time, I thought I would have to give up on finding any relevant policy work to undertake over the summer," Maggie said.
Fortunately, Maggie found a way to move forward. First, she found an unpaid internship with a global research team with a tall order – to track every country's public policy responses to the pandemic but on a limited budget. Then, she secured funding for her unpaid internship through a new program from the Schroeder Center for Health Policy that provides fellowship support to students just like her. "Luckily, the fellowship allowed me to take part in a historic, global policy project."  
Maggie interned with the CoronaNet Research Project. The project is led by researchers at the Technical University of Munich, New York University - Abu Dhabi, and Yale University. Begun at the start of the coronavirus pandemic, the Project's goal is to create a complete and accurate database of the policy responses to the virus that can be used in future research about the effectiveness of governmental responses in combatting the spread of the virus.  
"I learned a lot about the potential and importance of reliable research, particularly during times of uncertainty.  Some of the most inspiring moments of my experience were the opportunities I had to hear the primary researchers discuss their hopes for the data set they were working so hard to create.  They knew that the information they compiled would serve as a valuable tool in assessing the strengths and weaknesses of various countries' pandemic responses and would therefore allow the world to be better prepared for future public health crises."  
Without financial support from the Schroeder Center Summer Fellowship, Maggie says she may not have been able to work with the CoronaNet Research Project this summer.  "That's a constraint many students may face," notes Jen Mellor, director of the Schroeder Center. "In public policy, internship sponsors are sometimes local non-profits and other groups that operate on tight budgets. The Public Policy Program and the Schroeder Center wanted to find ways to allow students to take these jobs and apply their skills, even when a more lucrative, but less closely related, summer job presented itself. Of course, the pandemic made this funding even more important, as many paid internships dried up too." 
This past summer, the Schroeder Center for Health Policy also funded an internship for Garrison Chura, '21, who worked at the Center for Medical Economics and Innovation at the Pacific Research Institute. Chura is a senior dual majoring in Public Policy and Business. And the Public Policy Program funded two other internships in areas other than health policy. All the internships were funded by donors to W&M whose gifts were intended to benefit students.
Maggie describes some of those benefits. Working on the Project, she notes "helped me develop skills that will boost my resume and serve me well in my future academic and career endeavors." Plus, she says, "the World Health Organization and even leaders of large countries are using the CoronaNet Government Response Data Set to inform how they respond to new COVID-19 outbreak. I am proud to have been part of such a critical, powerful project."