Congratulations Class of 2020!
Congratulations to W&M Public Policy's 2020 Graduates!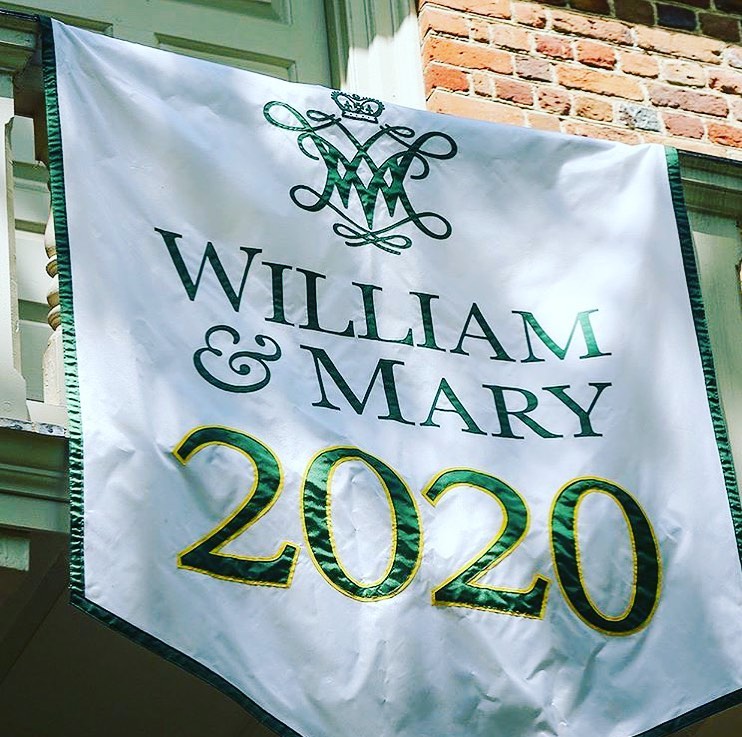 Faculty and staff of William & Mary's Public Policy Program were excited and proud to confer degrees to 53 undergraduates and 12 graduate students in our on-line graduation ceremony in May.  We offer our most sincere congratulations to our very accomplished and outstanding students, who come from many areas of Virginia, around the country, and across the world!
John Gilmour, Director of the Public Policy Program and Professor of Government, began the ceremony by telling the students what an immense privilege it was teaching them.  He stated, "At the beginning of the semester, none of us expected that we would be teaching and learning in on-line courses," but somehow it all worked out.  "Everyone had to make adjustments, big and small, but the combination of adaptability and good will brought us all to this successful conclusion," he noted.  He then acknowledged that William & Mary has "a long tradition of training people for public service," and that "public service remains a noble calling."  Professor Gilmour remarked that public policy involves the "rational, evidence-based examination of government policies, their effectiveness, and how they can be made to work better."  Citing his favorite example of how analysis can make an important difference in decision-making, he mentioned how an IRS employee suggested requiring families with dependents to provide dependents' social security numbers when filing their taxes.  This simple suggestion helped the U.S. government collect more than $150 billion in revenue.  
Faculty and alums of the Public Policy Program then provided the graduates with their own personal congratulatory messages.  Professor of Economics Peter McHenry encouraged the graduates to "remember that the cost of something is what you give up to get it" and that data are both amazing and powerful sources of information.  Professor of Public Policy Andrew Langer (W&M, '93) recognized that the graduates have shown an ability to adapt and persevere, which are skills which will serve them well in their careers.  Devin Braun (W&M, B.A., '12; MPP, '13), President of the MPP Alumni Association and Senior Analyst at the U.S. Government Accountability Office (GAO), encouraged the graduates to use W&M alums across the world as a resource as they navigate finding jobs.  Professor of Government John McGlennon stressed "the importance of having well-trained professionals to help guide our government's policies in dealing with serious crises."  Professor of Economics Peter Savelyev offered the graduates his own congratulations and encouraged them to honor the front-line workers dealing with COVID-19.  Professor of Economics Jennifer Mellor noted how proud the faculty was of all that the graduates had accomplished and that the entire William & Mary community was celebrating with them.  Professor of Public Policy Alexandra Joosse encouraged the graduates to take their memo writing skills, social network analysis expertise, and non-profit knowledge and "make the world a better place."

Professor Gilmour then announced that Olivia Yang would receive the Megan Owen Award, which is an award given to the top female graduate in public policy.  Olivia is from Henrico, Virginia, and she hopes to contribute to "groundbreaking policy research" in her career.  The award honors the memory of Megan Owen (B.A., '94), a public policy and government double major at W&M.
Elaine McBeth, Associate Director of the Public Policy Program and Professor of Economics, then read the names of the 2020 graduates.  These outstanding Public Policy graduates are particularly noteworthy for their many accomplishments and their plans for the future.  Many graduates intend to further their education, either attending law school (Yale, UVA, Ole Miss, University of San Diego, and William & Mary) or pursuing masters or doctoral programs in philosophy and public policy (London School of Economics and Political Science), history (Boston University), social and comparative analysis (University of Pittsburgh), and elementary education (William & Mary).  Other 2020 graduates will immediately begin work at public and private sector organizations around the country, including Accenture, Americorps, Booz Allen Hamilton, Brooklyn's Assistant District Attorney's office, Field to Market, Grant Thornton, KPMG, Lewin Group, Logistics Management Institute, National Law Center on Homelessness and Poverty, U.S. Navy, Washington AIDS Partnership, and the Williamsburg/James City County Commonwealth Attorney's office.

Roll..Tribe..Roll!  Hark upon the gale!  We look forward to seeing our graduates for an in-person graduation ceremony in October!

To view the Public Policy's on-line graduation ceremony, please click here.