Mel Onwusika '23, chats with alum, Suzie Bae '20
Recently, I had the pleasure of talking to Suzie Bae (W&M '20) about her role as Senior Associate in Growth and Strategy at KPMG. Below is a summary of our discussion, which I hope other fellow Public Policy majors will find useful.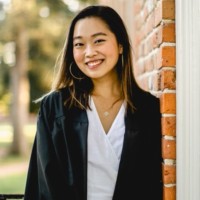 Why did you decide to major in Public Policy? Did you think of any other majors while you were at W&M? If so, what?
I came into William & Mary wanting to be a Public Policy major. I was drawn to the interdisciplinary nature of the degree and the small, close-knit size of the department. I also briefly considered International Relations, Economics and Government but realized that Public Policy was the best fit for me because it covered elements from across all those disciplines.

What was your favorite class, and which class do you think prepared you the most for your career?  
Bureaucracy, a Government class that was taught by Professor Paul Manna, stands out as a class that has prepared me the most for my career. The intensity and rigor of the class helped me to develop my writing and critical thinking skills. I remember that class participation was very important with an emphasis on making valuable contributions to the discussion. It was nerve wracking at the time but ultimately taught me so much. I also remember enjoying classes that I took in the Sociology department and in Gender & Women Studies.

What ways were you involved on campus as a student at W&M?
I was very involved with the GRI, where I was a summer fellow and worked at an international development organization. I learned a lot about cross cultural awareness and considered this to be a key, transformative experience in my life. I also participated in GRI's e-internship program run by Professor Kay Floyd, and I developed research reports with the Marine Corps and Air Force. Additionally, I worked in the Diplomacy lab with Rebecca Latterall on its Africa-focused Women in STEM project. I learned important quantitative and qualitative research skills through that experience. Other memorable experiences at W&M included participating in the International Relations club, Student Conduct Council and The Monitor which all provided me with important transferable skills. 
Did you participate in any internships while you were an undergraduate? How have those experiences shaped your career path?
I spent my first college summer as a GRI summer fellow. While this experience did not directly affect my current career path, I credit it for helping me to be more open-minded and willing to be challenged in new environments. I spent my second summer interning at Berkeley Research Group - a litigation consulting firm. This was my first foray into consulting and while it is not quite what I do right now, I believe that it was a great introduction to a corporate environment which taught me how to behave and operate professionally. 
Did you consider going to graduate school?
​​I have always known that I would go to graduate school eventually, but not immediately after undergrad. The biggest reason for not going to graduate school right after W&M was financial - I would have to fund the program myself.  The second reason was the belief that graduate school is most formative when you have a very clear reason and purpose as to why you are going. Oftentimes, I believe that purpose is realized after working. Right now, I am considering going to business school in the next 2 to 3 years. 
I know that you currently work as a senior associate in Growth and Strategy at KPMG. Can you tell me a little bit about your current job responsibilities?
I recently entered this role within our practice called Ignition Center, and I specifically work with the Innovation Labs. Our practice is often referred to as a startup within KPMG. In some respects, this is very true because it started out in a We Work in Soho in 2015 and has now grown into a formal practice within the firm. Basically, we help both internal and external clients plan and prepare for disruption. We try to anticipate potential disruptions in different industries and prepare solutions to help our clients be ahead of the curve. I am helping the Innovation Labs Practice at KPMG expand into the DC market where we recently opened an office near the Capital One Arena, and I think through market strategy. My role involves a lot of forward thinking and constantly pushing the envelope on a daily basis. Prior to my current position, I worked within the commercial healthcare space with pharmaceutical and life sciences companies.

What is your favorite part of your job?
My favorite aspect of my job is its focus on solving niche, growth-centered problems. Innovation consulting is not your typical, routine day-to-day consulting. We work on interesting projects, and I am constantly learning a new topic and having to pick up a new skill set. The best part of my job can often be the most challenging part, but I have found that it is where I thrive and receive the most satisfaction.

What skills do you use the most in your current job?
I rely a lot on communication in all forms - verbal, written and listening. Teamwork is incredibly important in consulting and knowing how to navigate both small and large teams. Interpersonal skills, empathy - understanding where people are coming from - and critical thinking skills are paramount.

Are there any marketable skills in particular you think college students should develop while at school?
I am very big on learning soft skills because I believe that they are much harder to develop than technical skills. Anyone, for example, can learn hardcore skills, but learning how to communicate effectively and to tweak your communication style based on your audience will take you far. In this Pandemic world, students should know how to collaborate and work with a team virtually (which brings in the importance of empathy). Selfless leadership and development is important to learn as well because in order to truly impact an organization, you must care about your peers and lifting others up. Finally, students should seek good mentors!

Knowing what you know now, is there anything you would have done differently in your college career and job search?
I would definitely have stressed less and enjoyed the college experience more. I think William & Mary students should remember that they are brilliant and go to an incredible school. Don't put so much pressure on your first job after college. Most times, your first job will not be your last job. Control what you can and move on. You do not have to get everything right. 
What advice would you give to Public Policy majors seeking to enter the private sector?
Don't worry – you are more qualified than you think! When I was going through consulting and corporate world recruiting, I had some insecurity about not being a business major.  However, I think Public Policy majors have more leverage than they realize. They are coming in with very strong soft skills - writing and critical thinking skills that are often more tricky to develop.  Students should use their own unique academic backgrounds to make a personalized, compelling case as to why a corporate role is a good fit for them. They should make sure to highlight their openness to learning when going through the recruitment process. They will stand out for all the right reasons.