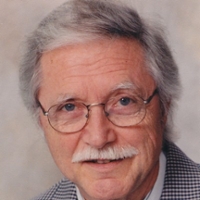 David Jones
Professor of Philosophy, Emeritus
In Memorium: (1930 - 2020)

Memorial Notice
David H. Jones age 89 of Independence passed away on October 6, 2020 at The Groves long term care facility. David was born December 25, 1930 in Independence to Rachel and Leon Jones. David grew up in Winslow, Arizona, where he finished high school in 1949. David and Virginia Ann Lipoma of Independence married in 1953. David served in the U.S. Navy during the Korean War, 1951-1954, and then attended the University of Kansas City (now UMKC) where he earned a B.A. in philosophy and religion in 1958.
After earning M.A. and PhD degrees in philosophy from Harvard, David taught at the University of Kansas from 1962 to 1967 and at the College of William and Mary from 1967 to 1996. After retiring, David and Virginia continued to live in Williamsburg until 2005 when they moved back to Independence to make their home.
A dedicated secular humanist, David's main teaching and research interests were in ethics, social and political philosophy, and the philosophy of the law. During the 1980s, he developed a deep interest in holocaust studies and the prevention of genocide, including teaching a course on moral responsibility in the holocaust at William and Mary for a number of years. He also published a book and several professional articles on those subjects. In 2001 he gave an invited lecture at an international conference on genocide in Vienna, Austria. He also was an active teacher at UMKC, both as an adjunct lecturer in philosophy and as a volunteer instructor in SPARK, the continuing education program of Elderhostel.
David is survived by his sister, Jacqueline Heartz, of Winslow, Arizona.
David's remains are interned at Mt Olivet with his wife, Virginia.