Profile: William M. "Bill" Richardson '74, Philosophy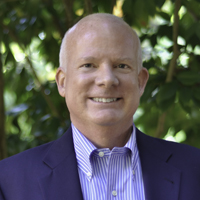 I love the College, and I have given regularly since graduating. I believe one should give back to the institutions that have contributed to one's success.
In 1984, when Jerry Miller '74, a good friend and fellow Philosophy major, died of complications from a car accident, I wanted to find a way to honor him. He was the hardest-working student I ever met, the best student in our class, and an extraordinarily impressive person. His achievements included winning the Botetourt Medal for academic excellence, receiving a Draper's Scholarship to Oxford (where he studied law and jurisprudence), and earning his law degree at Harvard.  After law school, he returned to his home state of Wisconsin, where he practiced law with a prestigious firm in Milwaukee. Jerry had the whole world before him, but tragically it was taken away. He was a remarkable person who, by virtue of his accomplishments at William and Mary, should be remembered at the College.
The following year, my wife and I approached the College's development office and the Philosophy Department about the idea of making sure he would be remembered. Through the generosity of members of Jerry's family (including his widow, Kate, a W&M alumna) and numerous Philosophy alumni who had known Jerry, an endowment was established in Jerry's memory. Income from the endowment is used to fund the Jerry Miller Award, an annual award for the best philosophical paper submitted by a graduating senior, as determined by departmental faculty. The monetary portion of the award has grown over the years from $200 to $1000.  At several of the Philosophy Department's graduation ceremonies, I have had the honor of presenting the award and describing the person behind its name. Recipients of the award have told me that knowing who Jerry was makes the award especially meaningful.
My professors are what I will remember most from being a student at William and Mary. Many were not only superb teachers but also generous mentors who cared about their students' welfare and success. Through their efforts, the College changed my life for the better. The logical analysis and intellectual rigor cultivated by my Philosophy professors were excellent preparation for law school and, subsequently, the practice of law.
I support William and Mary because of the College's importance to me.  I try to do my part to help it thrive, so it can continue to provide students with experiences similar to those it gave me.
In addition to helping create and fund the Jerry Miller Award, Richardson gives to the Fund for William and Mary, the Law School, the Mason School of Business, and the Tribe Club. He and his wife, Mary Bobbitt Richardson '74, Economics, have been President's Council members since 2001. After retiring from the practice of law in 2008, Richardson began teaching at the William and Mary Law School and Mason School of Business as an adjunct faculty member.