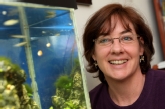 Pamela S. Hunt
Professor of Psychological Sciences
Office: Integrated Science Center, Room 1137
Phone: 757 221 3894
Email: [[pshunt]]
CV: {{http://www.wm.edu/as/psych-sciences/documents/cvs/hunt_cv.pdf, pdf}}

Areas of Specialization
Development psychobiology
Neural basis of memory
Alcohol and memory
Educational Background
B.A. Framingham State College, Framingham, MA
M.A. State University of New York at Binghamton
Ph.D. State University of New York at Binghamton
Brief Biography
Associate Director of Interdisciplinary Neuroscience                                               2005-2011
Associate Professor of Psychology, College of William & Mary                            2001-2010
Assistant Professor of Psychology, College of William & Mary                             1997-2001
Postdoctoral Fellow, Princeton University                                                                1992-1997
Honors & Awards
Plumeri Award for Faculty Excellence
James McKeen Cattell Fund Fellowship
Arts & Sciences Term Distinguished Associate Professor of Psychology
Fellow, Eastern Psychological Association
Fellow, Association for Psychological Science
Framingham State College Alumni Achievement Award
William & Mary Alumni Fellowship Award for Excellence in Teaching
Courses Taught
PSYC 301 Elementary Statistics
PSYC 313 Physiological Psychology
PSYC 470 Seminar: Fish Cognition
Selected Publications
Barnet, R.C., Hunt, P.S. & Burk, J.A. (in press) Cognitive consequences of adolescent and adult nicotine exposure: utility of animal models. In G. Di Giovanni (Ed.),  Nicotine Addiction: Prevention, Health Effects and Treatment Options. Hauppauge, NY: Nova Science Publishers.
Richardson, R. & Hunt, P.S. (2010). Ontogeny of fear conditioning.  In M.S. Blumberg, J.H. Freeman & S.R. Robinson (Eds.), Oxford Handbook of Developmental Behavioral Neuroscience (pp. 527-545), Oxford University Press.
Hunt, P.S., Jacobson, S.E. & Torok, E.J. (2009) A rat model of fetal alcohol exposure exhibits deficits in trace fear conditioning: Dose-response and timing effects. Alcohol, 43, 465-474.
Hunt, P.S., Barnet, R.C., Shea, M.E. & Baker, E.M. (2006).  Cholinergic modulation of trace conditioning trained in serial compound:  A developmental analysis.  Neurobiology of Learning and Memory, 86, 311-321.
Barnet, R.C. & Hunt, P.S. (2006).  The expression of fear-potentiated startle during development: Integration of learning and response systems.  Behavioral Neuroscience, 120, 861-872.
Wagner, A.F. & Hunt, P.S. (2006).  Impaired trace fear conditioning following neonatal ethanol: Reversal by choline.  Behavioral Neuroscience, 120, 482-487.