W&M Commissions New Second Lieutenants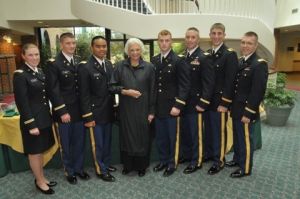 This past May, the William and Mary ROTC Department commissioned seven new Second Lieutenants into the Army.  Two more will be commissioned once they finish training this summer.
In a ceremony held in the Commonwealth Auditorium of the University, Brigadier General  Thomas W. Spoehr, W&M Class of '80, delivered an address that would solidify the process of the newly inducted Lieutenants that would prepare them for their Army careers.  General Spoehr reflected on duty, honor and country and told the soldiers of their impending responsibility which they will soon embark upon. 
The ceremony was followed by a reception for family and friends, in which the Chancellor of the College of William & Mary (Honorable Sandra Day O'Connor) attended and congratulated the newly commissioned officers.