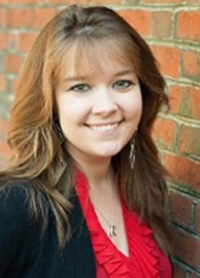 Kasey Sease
Ph.D. Student (ABD)
Advisor: Adrienne Petty
Email: kmsease@email.wm.edu
Current Research: Cultural/ Intellectual, History of Capitalism, History of Science and Technology

Bio
Kasey Sease is a PhD candidate in American history. Primarily, she studies the evolution of American capitalism and public science education in the modern United States. She also enjoys exploring the loyalist diaspora following the American Revolution and the political and intellectual history of Virginia from colony to statehood. She is currently writing her dissertation—"Marketing Agencies for Science: Nonprofits, Public Science Education, and Capitalism in Modern America"—as a Michael Halleran Dissertation Completion Fellow. Her master's thesis, completed at the College in 2015, was titled "'Distresses of Mind, Body, and Estate': The Connection between Status and Property in Colonial Virginia as Exhibited by Loyalist Claims." She received three editorial fellowships from the Omohundro Institute of Early American History and Culture in 2015-2016. In August 2017, Kasey submitted a manuscript chronicling the history of the Science Museum of Virginia to the Virginia Academy of Science, which funded the project. Between 2018 and 2020, she was awarded first place in William & Mary's annual Three Minute Thesis Competition, the John E. Selby Teaching Prize, and the Ed Carpol Award in Modern U.S. History. Kasey completed a five-month predoctoral research fellowship at the Smithsonian Institution Archives and the National Museum of American History in January 2020. She is currently a Research Associate in the Institutional History program of the Smithsonian Institution Archives. 
Kasey received her B.A. in History and Government from the University of Virginia in 2014. She graduated with highest honors from the Woodrow Wilson Department of Politics Distinguished Majors Program as an Echols Scholar and member of Phi Beta Kappa. Her history thesis, "Provincial Influences on Loyalist Writings," was the Humanities Division Winner at the 2014 Undergraduate Research Network Symposium at UVA and was published in the Michigan Journal of History. Her distinguished majors thesis, "John C. Calhoun and Majority Tyranny: An Exploration of a Theoretical Problem in American Politics," was nominated for the Emmerich-Wright Prize for outstanding politics thesis in 2014. In the past, she has interned and worked for several institutions including the University of Virginia Center for Politics, the Mariners' Museum, and the Colonial Williamsburg Foundation. 
 Publications 
 "Innovating Nightmares: Ray Bradbury's Elliott Family and the Horror of Technology in Modern American Capitalism." Exploring the Horror of Supernatural Fiction: Ray Bradbury's Elliott Family. Eds. Miranda Corcoran and Steven Ellerhoff (New York: Routledge, 2020). 
 More Than a Building on Broad Street: A History of the Science Museum of Virginia, 1910-2017 (Richmond: Virginia Academy of Science, 2020). 
 "'The Practical Value of Science': Philanthropy, Capitalism, and the Origin of Public Science Education in the Nineteenth-Century United States." Journal of Philosophy and History of Education 69 (2019): 73-91.
 Selected Online Reviews and Blog Posts 
 "Cherry Blossoms, Travel Logs, and Colonial Connections: Eliza Scidmore's Contributions to the Smithsonian." The Bigger Picture. August 18, 2020. 
 "Depression-Era Pen Pals: A Correspondence Between Two Hard-Working Women." The Bigger Picture (Smithsonian Institution Archives Blog). January 7, 2020. 
 "Cutting through All the Signal: A Review of Damon Krukowski's The New Analog." H-Podcast, H-Net Reviews. October 21, 2019. 
 "Learning to Love Science: Rebecca Onion's Innocent Experiments and the History of an American Cultural Tradition." Nursing Clio Blog. December 27, 2016.