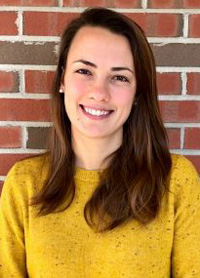 Rebecca Capobianco Toy
Ph.D. Student (ABD)
Advisor: Dr. Hannah Rosen
email: rlcapobianco@email.wm.edu
Current Research: Civil War memory, Reconstruction, public history
Website: https://civildiscourse.squarespace.com/blog?author=5ca6eb0515fcc0b503032d53&p?author=5ca6eb0515fcc0b503032d53&p

Bio
Rebecca received her B.A. in history, as well as an M.A. in U.S. and public history from Villanova University. Before returning to graduate school, she worked in education for the National Park Service. Her research interests focus on the construction and contestation of national identity in public spaces after the U.S. Civil War. Rebecca's dissertation examines the Civil War and post-Civil War history of Yorktown, Virginia and explores the growth of Yorktown's Black community in freedom.
Additionally, Rebecca is an author for
Civil Discourse: a Blog of the Long Civil War Era
and co-editor of Emilie Davis's
Civil War: The Diaries of a Black Woman in Philadelphia, 1863-1865
.