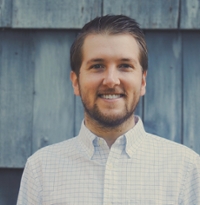 Christopher C. Jones
ABD History
Advisor: Christopher Grasso
Email: ccjones@email.wm.edu
Current research: Dissertation: "Religion and Revolution in the Atlantic World: Methodism in North America and the Caribbean"

Bio
Prior to entering William and Mary's PhD program, Christopher Jones received a B.A. (2007) and a M.A. (2009) from Brigham Young University, both in history. His research interests include the intellectual, cultural, and religious history of the early American republic and the Atlantic World. He is the recipient of several grants, fellowships, and awards, including the 2012 John E. Selby Award for Excellent in Undergraduate Instruction from William and Mary's History Department and the 2013 Best Article Award from the Mormon History Association, for "Mormonism in the Methodist Marketplace: James Covel and the Historical Background of Doctrine and Covenants 39-40," BYU Studies Quarterly 51:1 (2012): 67-98.
His dissertation expands the geographical purview of early American Methodism by examining the growth of the movement in the United States and Great Britain's North American and Caribbean colonies and highlights the ways in which religious institutions and their members responded to the disruptions of the Revolutionary Atlantic World and how their actions shaped its future. He has presented his research at various conferences, and is the author of a chapter in a forthcoming compilation on religious toleration in America ("'An Encroachment on our religious rights': Methodist Missions, Slavery, and Religious Toleration in the British Atlantic World," in Chris Beneke and Christopher S. Grenda, eds., A Lively Experiment: The Story of Religious Toleration in America, from Roger Williams to the Present (Rowman and Littlefield, forthcoming 2015).