Professor Raitt Addresses Glasgow Conference
Passion, self-discovery, and betrayal form the foundation of some of the greatest love stories ever told. And few novels illustrate this more than Virginia Woolf's biography Orlando, one of the most complex love letters in English literature.
In November, Professor Suzanne Raitt traveled to Glasgow, Scotland, to be one of the keynote speakers at "Unlacing Orlando," an inspirational day of lectures and discussions celebrating Woolf's masterpiece.
"Conferences are like classes for faculty," says Professor Raitt. "Just like students in a classroom, professors want to be in a room with others who know a lot about the same things and to exchange ideas. I teach Orlando almost every semester. By participating in a conference like this one, I am able to bring fresh ideas back to the students, which keeps the conversation around this text very much alive."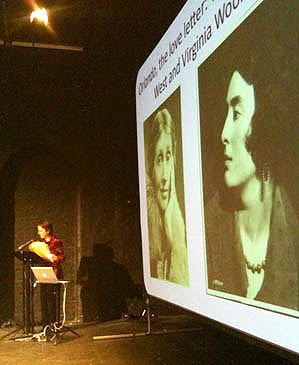 Hosted by the Cryptic Theatre and the University of Glasgow, "Unlacing Orlando" was part of Scotland's month-long Glasgay! festival, an annual celebration of gay culture. This year's festival featured a performance of Orlando at the Tramway Theatre. As part of the celebration surrounding the performance, Professor Raitt presented the lecture "Orlando, the love letter: Vita Sackville-West and Virginia Woolf."
Using diaries, letters, memoirs, and other records of the women's lives, Raitt explored Orlando and the role it played in the relationship between two women, Vita Sackville-West and Virginia Woolf.
"In the past, anything written about women was perceived as less significant," says Raitt. "Woman's Studies and Gay Studies have helped us pay better attention to a text and listen to all the voices that come out of it. When we look at all the different perspectives, everything a text is saying can come out, with each student's perspective added in."
Both a biography and love letter to Sackville-West, Woolf's Orlando follows the life of a young man in Elizabethan England through his transformations of fortune and love across several centuries of British history. A passionate epic of self-discovery, the novel explores the hero's journey through a variety of lives, relationships, and even a sex change.
Raitt con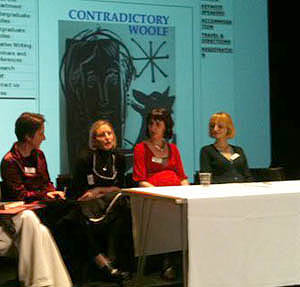 cluded, "Orlando is simultaneously a private communication and the teasing public staging of a relationship . . . It is a novel; it is a biography; it is the history of a family and a house; it is a love-letter; it is an exposé; it is a threat; it is the joint creation of two gifted and beautiful women."
While in Scotland, Professor Raitt also presented a lecture titled, "Efficiency, Imperialism and Waste in Joseph Conrad and H.G.Wells" to the Modern and Contemporary Research Group in the English Department at the University of St. Andrews. Recently, William and Mary and St. Andrews entered into an arrangement whereby they will offer joint degrees.
Professor Raitt also met with St. Andrews' English professor Ian Blyth to further their collaboration as co-editors on Woolf's novel Orlando for the Cambridge Edition of Virginia Woolf published by Cambridge University Press.
"When you do research on your own, you can do good work. But when you are face to face with others, you can really engage in an active exchange of ideas, allowing you to advance your work and take away new thoughts and perspectives," says Professor Raitt. "Having these conversations makes a huge difference. They add a new excitement to the text and allow us to make new discoveries with the broader intellectual community."