Matt Richardson was the 17th Annual Minnie Braithwaite Lecturer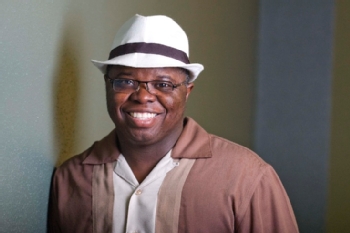 His lecture, "The Queer Limit of Black Memory," was one of the best attended in the history of the Braithwaite Lecture series, with over 120 students, faculty and community members crammed into McGlothlin-Street Hall 20 on a Tuesday night. In a moving and compelling lecture, Professor Richardson considered the consequences of disremembering black queer people from the collective memory of the past. The richness and the complexity with which Black people have resisted dominant attempts to control the Black body, decry Black sexuality as aberrant, and to define Black families as pathological, is lost without the queer voice. Through descriptions of recent cases of police brutality and mob violence, Professor Richardson investigated the implications of this erasure by examining the largely unknown cases of black queer people killed in the United States.
Matt Richardson has been a feminist activist and writer for over twenty years. He is currently Associate Professor of English and African and African Diaspora Studies at the University of Texas at Austin. He is affiliated with the Center for African and African American Studies, and the Center for Women's and Gender Studies. He has published articles in The Journal of Women's History, Black Camera: A Journal Devoted to the Study and Documentation of the Black Cinematic Experience, Sexuality Research and Social Policy: Journal of the NSRC, GLQ and The Journal of Women's History, as well as works of fiction in publications like Queer Codex and Does Your Mama Know: African American Coming Out Stories.He is the co-author with Enoch Page of "On the Fear of Small Numbers: A 21st Century Prolegomenon of the U. S. Black Transgender Experience," which appeared in Black Sexualities: Probing Powers, Passions, Practices, and Policies (NJ: Rutgers University Press, 2009). His book, The Queer Limit of Memory: Black Lesbian Literature and Irresolution, is forthcoming from the Ohio State University Press in 2013. He serves on the editorial collective of Feminist Studies. He received the Woodrow Wilson Fellowship National Fellowship for Junior Faculty and the Dean's Fellowship in 2009. In 2011, he was a recipient of the John L. Warfield Teaching Award.
The Annual Minnie Braithwaite Lecture in Women's Studies, usually in the spring semester, commemorates Minnie Braithwaite's courage in attempting to attend classes at the College of William and Mary, and celebrates the admission of women to the College.