Sharon Marcus to give 16th Annual Minnie Braithwaite Lecture in Women's Studies
The lecture, "The Double Life of Female Celebrity," will be on Tuesday, March 13th, at 6 pm in Andrews Hall 101. There will be a reception following the lecture, in the Botetourt Gallery. Everyone is welcome!
Sharon Marcus is Orlando Harriman Professor of English and Comparative Literature at Columbia University in New York. She specializes in nineteenth-century British and French literature and culture, and has taught courses on the novel, Victorian genres, narrative theory, Oscar Wilde, theories of gender and sexuality, the city in nineteenth-century literature, and the year 1857 in England and France.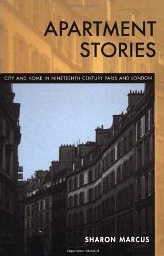 Her first book, Apartment Stories: City and Home in Nineteenth-Century Paris and London (University of California Press,  1999), won honorable mention for the MLA Aldo and Jeanne Scaglione Prize for Comparative Literary Studies.  Her second book, Between Women: Friendship, Desire, and Marriage in Victorian England (Princeton: 2007), won the Perkins Prize for a significant contribution to the study of narrative, the Albion Book Prize for best book on British studies after 1800, the Alan Bray Memorial Book Award for best book in queer studies, a Lambda Literary award for best book in LGBT studies, and has been translated into Spanish.  With Stephen Best, she recently edited a special issue of Representations on "The Way We Read Now."  She has published articles on Trollope, Charlotte Brontë, comparative sapphism, same-sex domesticity in Victorian England, Victorian fashion plates, Rosemary's Baby, sentimentality and cosmopolitanism in the writings of Anne Frank and Hannah Arendt, and the theory and practice of rape prevention, as well as methodological essays on comparative literature, queer studies, feminist criticism, and Victorian studies.  The recipient of Fulbright, Woodrow Wilson, and ACLS fellowships, and, at Columbia, a Gerry Lenfest Distinguished Faculty Award, she is currently writing a book about theatrical celebrity in the nineteenth century.
The Annual Minnie Braithwaite Lecture in Women's Studies commemorates Minnie Braithwaite's courage in attempting to become the first woman to attend classes at the College of William and Mary in 1896.