Lisa Maund Interned at H.E.R.
My two-month internship at the H.E.R. shelter offered an opportunity to observe and participate in shelter work.  The H.E.R. mission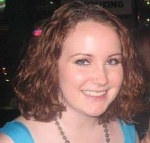 statement proposes, "The purpose of Help and Emergency Response (H.E.R.) is to provide shelter and engage in dedicated efforts to eliminate domestic violence" (Help 4).  Demonstrating the need for such efforts, the National Coalition against Domestic Violence's statistics for Virginia report that for 2005, individuals reported 3,632 violent crimes against relatives and partners (State).  Additionally in 2006, 51,652 people contacted Virginia domestic violence programs because of emergencies (State).  Meanwhile, H.E.R. maintains, "The philosophy of Help and Emergency Response is to empower women to break the cycle of violence and to become (or remain) healthy, productive, caring individuals, whose strong sense of self-worth is transmitted directly to their children" (Help 4).  Advocacy roles aim to accomplish these goals by providing clear, factual information, hotline support, and emergency shelter for forty-two women and children at a given time.  To meet the women's needs, staff members sponsor the Aftercare Program, Court Advocacy Program, and the Volunteer Program.  The shelter provides a children's program to address the children's specific emotional needs and happiness, as well as attempt to interrupt the cycle of violence.  Services include crisis intervention, emotional support, advocacy and legal assistance, housing and secure accommodations, childcare, and access to community services ("Learn").  To ensure that the individual resident's assessed needs are met, the shelter provides them with the opportunity to access resources, fulfill needs, and prepare for obstacles after exiting the shelter ("Individual").  The H.E.R. Shelter aims to provide the necessary support to help individuals achieve their goals relating to employment, housing, transportation, financial, childcare, medical, self-esteem, and mental health needs, as well as parenting skills and domestic violence education ("Individual").