Pi Sigma Alpha
National Political Science Honor Society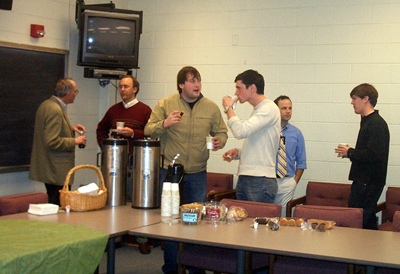 William and Mary is proud to host the Eta Rho Chapter of Pi Sigma Alpha, the National Political Science Honor Society. The William and Mary chapter was founded in 1976 with the purpose of stimulating interest and scholarship in political science. W&M Pi Sigma Alpha is additionally dedicated to building community among students and faculty with a passion for political science.
Officers and members of Pi Sigma Alpha organize activities throughout the year. This year we are already planning to take a trip to D.C. to get a behind the scene tour of the Library of Congress. We will also be organizing other local trips, as well as monthly "high teas" for faculty and students.
To be eligible, students must a) be an academic junior or senior, b) have taken at least 15 hours of government credits (at William and Mary or transfer credits), c) have an average 3.0 GPA in those courses, and d) place in the top one-third of their overall classes in terms of GPA. Eligible students will be contacted by the Department with information about applying.
To learn more, please visit the national Pi Sigma Alpha website or the William and Mary Eta Rho PSA Chapter website.
2011-12 Officers
President: Nicky Bell (njbell@email.wm.edu)
Vice President: Lindsay Hundley (ljhundley@email.wm.edu)
Treasurer: Emily Gottschalk-Marconi (ecgottschalkma@email.wm.edu)
Secretary: Emily Pehrsson (ehpehrsson@email.wm.edu)
Faculty Advisor: Prof. Rapoport
Fall 2010 Inductees
Michael Castellano

Sarah Sibley

Omar Farid

Pamela Kennedy

Lindsay Brannan

Megan Coolidge

John Palenski

Allen Koji Ukai

William Seth Lacy

Lindsay Nicolai

Jessica Hannah

Christopher Neuhard

Alex Bellah

Nick Wamsley

Robert Bernard McEntee, III

Robert Lawrence

Julia Zamecnik

Myles Busching

Justin de Benedictis-Kessner

Matthew D. LaBrie

William Sendor

Zoe Grotophorst

Aaron Branch

William Brannon

Allison Callery

Michael Tsidulko

Amanda Koons

Eric Robinson

Peter Klicker

Katharine Deables

Emily Gottschalk-Marconi

Nicky Bell

John Michael King

Lauren Campbell

Alexander Bramsen

Stefanie Felitto
Fall 2009 Inductees
Armbruster, Barret

Clapp, Patrick

Czajka, Casey C.

Doyle, Brian

Driscoll, Daniel

Giardi, Roberta

Hottel, Meghan

Hynes, Samantha

Kennedy, Colleen

Klock, Samuel Kennedy

McClellan, Kristopher

Miller, Renard

Muirragui, Matthew

Myers, Kimberly

Ranasingwe, Achcwana

Reeves, Lindsay Ann

Salvato, Stephen

Schroll, Carolyn R.

Shah, Ariel

Wertime, Shirin Fatemeh

Wiese, Austin

Chappell, Thomas

Cole, Tucker

Converse, Larisa (Lara)

Kiel, Kristin

McKillop, Mary

O'Donnell, Brian

Palmer, Celesta

Prawde, Alyse

Tinkelman, Ilsa

Wedding, Elizabeth

Whitaker, Emily

Hernandez, Devin M.

 
Fall 2008 Inductees
Katherine Leah Ball

Josh Barr

Christopher Morgan Burkes

Brittany Rolfe Constance

Lauren Doll

Jennifer Hatch

Alison Hudson

Meghan Ingrisano

David Scott Kraemer

Andrew Leyes

Alexandra Lysenko

Alexander Charles Mayer

Jonathan McAlister

Walter McClean

Katherine E. Merk

Andrew Noll

Jason Wirth Richmond

Lauren Sturner

Elizabeth D. Thomas

Kathryn Bailey Thomson

Tessa Vinson

Alyssa Wallace

Kimberly Walters

Lance Zaal
Spring 2008 Inductees
Kira Christine Allmann
Catherine P. Domino
David Alexander Erhart
Erin O'Brian Houston
Erin E. Huckle
Andrew Krouse
Mary Margaret Laurie
Jasmine Lief


Marianne Frost McLaughlin
Katherine Mulhall
Monica Fitzpatrick Pasqualino
Andrew L.W. Peters
Cynthia Phillips
Alisan VanFleet
Robinson Woodward
Spring 2007 Inductees
Amanda V. Norris
Nathan W. Bowen
Patrick G.H. Mott
Carrie Elizabeth Adams
Darby G. Hull
Kaitlin Coffey
Ryan Christ

Miranda L. Hutten
Conor W. Godfrey
Anna V. Palladino
Robert Reves Landicho
Rachel S. Collins
Harry Bethke
Fall 2006 Inductees
Ayah Ibrahim
Sally Ann Masters
Mary Sheppard Moll
Michael A. Reed
Andrew McIntyre Reeves
Emily K. Russell
Andrew Schwarm
Maegen Smith
Brent J. Schultheis
Sarah R. Tamburrino
Jessica Audrey Tseng
Melissa D. Wilks
Anne Hampton Andrews
Rianna Barrett
Courtney Taylor Bennis
Nicolas M. Cardillo
Gregory Cooper
Patrick C. Donaldson
Jennifer Favrar
Kayla Feller
Scott D. Fitzgerald
Lauren Danielle Garrett
Steven James Harrison
Rebecca R. Hammond
Spring 2006 Inductees
Marlena Anderson
Meghan Kathleen McCarthy
Samantha M. Archey
Benjamin T. Merrill
Virginia J. Bateman
Thomas Moyer
Courtney L. Behringer
Jonathan Ohring
James Evans
Brittney Pescatore
Logan H. Ferree
Timothy J. Polin
Harrison T. Godfrey
Joseph Luppino-Esposito
Paul Martin B. Gutierrez
Hadyn Lindsey Rickett
Christine Winifred Horgan
Darren L. Seraile
Laura Elizabeth Hurley
Kristen Simonsen
Nathaniel C. Johnson
Megan C. Smith
Bradley Justus
Jannick Taboada
Scott Andrew Kuhagen
Michael Joseph Trinité Jr.
Kevin C. Lacey
Joshua S. Powers
Georgia Leser
Elizabeth A. Weiland
Nicholas C. Lipresti
Brendan Williams
Ryan Seth Marion
Leah Witters
Alison E. Mathey
Andreas S. Wokutch
Fall 2005 Inductees
William Abbot
Shamus Sleight Brennan
Ashley Nicole Brownlee
Solomon C. Chang
Julie Michelle Colaneri
Kathleen A. Davis
Elizabeth Dewey-Vogt
Justin Matthew Fowler
Nicole M. Funderburk
Joshua Ashworth Goff
Laura Lee Golden
Daniella J. Grossman
Richard James Heupel
Alicia Hummel
Anne F. Hyslop
Cory Richard Johnson
Margaret J. Kochuba
Jonathan F. Lamb
Mariel McKone Leonard
William Craig Maxey
Neal Thomas McHenry
Kathryn Pharr
Richard Schlauch
Andrew Christopher Starr
Karolina E. Swiadek
Jennifer E. Sykes
Garrett Austin Thompson
Paul A. Trifiletti
Katherine Hill Wallmeyer
Sarah Wyatt
Spring 2005 Inductees
Baldassari, Ken
Bernard, Carroll P.
Bernt, Matthew
Blue, E. Pierce
Bristow, Jenny Lee
Cameron, Nicole G.
Cappa, Stephanie K.
Carley, Stephen J.
Casler, Stephanie Y.
Chaudhuri, Colin
Cotter, Cara
De Nesnera, Peter
Decker, Patrick
Fitzhenry, Amy C.
Flounders, Thomas C.
Hull, Tucker
Jackson IV, Charles H.
Johnson, Danythe E.
Kade, Elizabeth L.

Kennedy, Elizabeth L.
Kliger, Justin T.
Lasken, John
Lewis, Lauren M.
Lukach, Michael A.
Marx, Jeff
McDonnell, Jeanne E.
Mowery, Michelle A.
Nally, Laura
Neely, Steven A.
Olinik, Michael J.
Pantazes, Thomas C.
Pearlman, Elizabeth Toba
Press, Tabitha L.
Shah, Renu P.
Shull, Corey D.
Simpson, Christine
Snead, Lisa A.
Urciolo, Stephen L.
Fall 2004 Inductees
Tiffany Bagwell
Allison L. Biggs
Meredith Brett
James Burke
Benjamin H. Carafiol
Laura Cylke
Ryan Davidson
Rami N. Fakhouri
Shauna M. Fraser
John Isabella
Dnyanesh G. Kamat
Steven Kerr
Elizabeth Kveselis
Daniel Maliniak
William B Marlow
Barbara McElroy
Sarah McGinnis

Joshua J. McHenry
Lucy Mears
Michael J. Medina
Laura W. Mirengoff
Sean R. Murphy
Jennifer Narako
Robert Scott Nuzum
Elizabeth Nyman
Julie Podlesni
Christopher Robinson
Gordie Rosoklija
Meg Slachetka
Adam G. Smith
Tracy A. Snow
Katherine Spatz
James Walker
Joanna Watkins
Spring 2004 Inductees
Barringer, Elizabeth
Baskin, Andrew
Binnings, Gregory Scott
Brown, Sarah
Burton, Mark
Carroll, Christina
Casalotti, Adriane
Chapman, Alexander
Coffey, Frances
Currie, Stuart
Deanna, Kevin
Demaria, Benjamin
Earnest, Katherine
Fitzgerald, Rachel
Floyd, Kathryn
Ford, Christopher
Gagnon, Megan
Granville, Shannon
Grubb, Kimberly
Haase, Kristin
Haft, Joshua
Hage, Justin
Hawana, Farrah
Hepler, Nathan
Howard, Thomas
Johnson, Kristen
Jovanovic, Alexis
Koves, Christopher
Maul, Jennifer
McHugh, Erin
Mizelle, Chase
Monaco, Kristin
Newsome, Darcy
Partington, Jeffrey
Pratt, Robert
Regis, Lauren
Robayo, Deborah
Schulz, Meghan
Seavy, Robert
Whitley, Joseph
Young, Matthew
Zehr, Brandis
Fall 2003 Inductees
Katie Behr
Nadia Bouhdili
Jill Brabanti
Jennifer Chapman
Roberto Dall'Asta
Gwen Davis
Paul DePasquale
Kathleen Dorr
Monika Dyhouse
Thomas Fitzpatrick
Brendan Gaffney
Joelle Gotwals
Owen Grimes
Mary Hallerman
Emily Higgs
Julia Johnson
Cheryl Kochem
Todd Larson
Michael Leedom
Christopher Leonetti
Shannon Lewis
Timothy Marlowe
Erin Masterson

Kristen McGough
Amanda Morrow
Melissa Mott
Lena Munasifi
Lauren Nellor
Amy Nicks
Cathleen Parks
Timothy Platt
Joshua Prince
Michael Protka
Kathryn Romestan
Mary Anne Richardson
Erin Lane Thompson Robison
Daniel Rounds
Arista Salimi
Christina Sheetz
Cara Sims
Taylor Snow
George Srour
Megan Thomas
Lauren Weaver
Matthew Wright
2002-03 Inductees
Eric Kronman, President
Tim Frederick, Vice-President
Jill Shotzberger, Secretary-Treasure

Jennifer Becker
Julia Driscoll
Janine Emerson
Jacquelyn Fromal
Walker Hardy
Nicola Harrison
Heather Irene Howard
Eric Kronman, President
Susan Libby
Karin Lion
Mark Lopez
Timothy Miller
Courtney Morrison


Michael O'Neill
Dipti Ramnarain
Matthew Rutherford
Michael Schaefer
Angela Simms
Mary Slonina
Van Smith
Jamie Snyder
David Solimini
Arthur Traldi
Megan Tuttle
Jeremy Utt
Marco Vonhof
Katherine White
Jill Wisniewski
Danielle Yaggi
2001-2002 Inductees
Brian Knight , President
Barbara Marrin, Vice-President
Alice Walkup, Secretary-Treasurer
William Blake
Wendy Begleiter
Richard Cook
Kelly Gastley
Kristi Jamrisko
Anthony Jay
Mary Kasdaglis
Elizabeth Ketchum
Jesse Knight
Tanja Korpi
Thomas McSweeney
Karalyn Meaney
Patrick Miller
Margaret Riley
Eric Smith
Stephen Yoost
Kristina Zanotti
2000-2001 Inductees
Theresa Barbadoro, President
Genevieve Marley, Vice-President
Jessica Trojak, Treasurer
Stephen Bunch
Stephanie Caucutt
Jesse Ferguson
Daniel Fine
Michael Hass

Maria Hegstad
Elizabeth Higgins
Jennifer Korth
Steven Langan
Scott O'Brien
Jonathan Rogers
Lauren Schantz