W&M Student Advocates for Equitable Legislative Districts in front of the SCVA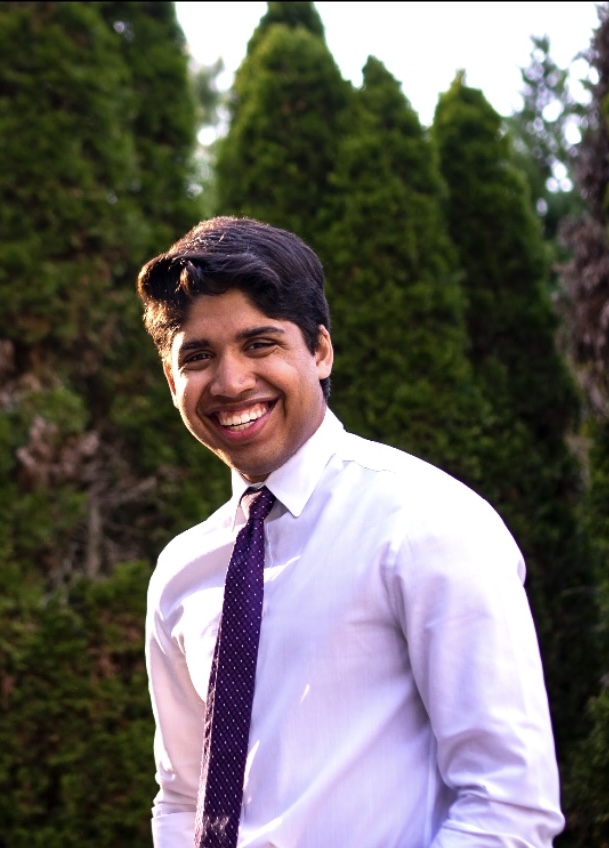 Salaar Khan is a sophomore majoring in Government from Henrico County, Virginia. He is passionate about service, and his on-campus extracurriculars include the William & Mary Young Democrats and the Pre-Law Leadership Council. He also serves as a Class of 2024 Senator to the Student Assembly. Salaar has worked in politics for almost a decade, with experience running campaigns, working with lawmakers, and even serving as Virginia's youngest-ever Delegate to the Democratic National Convention! Much of Salaar's advocacy focuses on young people, disabled folks, and communities of color. Currently, he is a co-host of the "Our Seat at the Table" podcast, which informs and engages young people in politics, in addition to being the managing partner of the podcast's business.
Salaar grew up with many physical challenges, and in middle school, he was diagnosed with a visual impairment that led him to become legally blind. "But I have always been able to overcome these challenges because of the incredible community around me. I knew what was broken in our system, and I knew our government needed to step up for the same kind of folks who always supported me. So when I was in middle school, I joined my local Democratic Party, and I've worked to make a difference ever since." Salaar has personally led young people, disabled groups, and immigrant communities to organize and engage in local politics. They all wanted their voices to be heard, and he knew they relied on one another to stay involved. However, a bill was proposed in the Virginia General Assembly in 2021 that would redistrict Virginia. For Salaar, these proposed maps would divide communities in the Richmond suburbs into three different districts and ultimately disenfranchise their voices in Virginia politics. Salaar wanted to make this argument directly to the Court, so he decided to testify in front of the Supreme Court of Virginia. 
In court, Salaar argued that the new congressional district maps would stifle a new wave of political engagement from often ignored communities by dividing up the suburbs in Henrico and Chesterfield counties. He shared the personal stories he had heard with the Court and explained that the connections within the groups were significant and should not be divided based on county lines. He asked Their Honors to review the proposed legislative maps and modify them to protect the people's interests rather than any political party.
Salaar describes being quite nervous when he was testifying. Even virtually, the judges can be quite imposing, and he knew that many people were watching live. In addition, he only had three minutes to speak and said that he was worried about being cut off by the Chief. Despite being nervous, he maintained his composure and made his arguments. Salaar describes being proud of his testimony. He was flattered by all the incredible people who reached out to him afterward, but at the end of the day, the best part was knowing that he brought a new perspective to the table. "I think that if I hadn't testified, a lot of real people could have been ignored. So I was grateful just to contribute, to have the experience, and to stand up for the communities I work with."
Salaar encourages student involvement in local politics. "Most people don't pay much attention to local politics, but it makes a huge difference, so your voice can truly be heard. You can meet with elected officials, go to public meetings, or just do what I did and join your local political party. What really matters is just being involved, because grassroots engagements engagement is the best way to preserve our democracy."