W&M Government Faculty Attend APSA Conference
The William & Mary Department of Government was excited to send eleven professors to this year's American Political Science Association Annual Meeting in San Francisco. The conference's theme was "legitimacy" and it took place from August 30th-September 2nd. Some of the questions considered were: what is legitimacy? Who bestows it? Is it universally understood and measured? And how is legitimacy differs across various cultures and the globe? The conference's keynote speaker was Janet Napolitano, former United States Secretary of Homeland Security and current president of the University of California, and also featured panels discussing current theories and events as well as paper presentations.
"The annual APSA meeting is one of the premier conferences in political science," said Paul Manna, chair of the Department of Government. "Having our faculty be major participants at this event--presenting their research, commenting on the research of others, participating in leadership roles in APSA's various sections--demonstrates the high level of regard that members of the profession have for the scholarly work that we produce at William & Mary. Our involvement at the conference also provides evidence of our faculty's outstanding work in the classroom, given that we see many of our former students, now faculty or graduate students, presenting their work as well," Professor Manna said.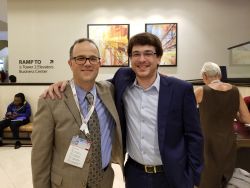 Also at the conference, Manna caught up with Eric Arias (pictured above), one of the Department's new hires who will be joining the Government faculty in Fall 2018.  Eric is spending the 2017-18 year as a postdoctoral research fellow at the Niehaus Center for Globalization and Governance at Princeton University.
It was a very productive conference for Professor Hongyu Zhang, who presented his paper titled "China Opposing Nuclear Nonproliferation: A Rational Policy with an Ideological Mask." The paper was well received by his peer scholars and provided with helpful feedback. This will help him revise the paper and prepare for publication.
Professor Rebekah Sterling presented a paper, had some good discussions about her research, and caught up with colleagues at other institutions, including Ross Carroll, who used to teach at William and Mary. She said one of the most memorable parts of the conference, however, was surviving both the unusual heatwave and the labyrinthine conference venue. Apparently it reached 106 degrees downtown, which is the highest temperature ever recorded for San Francisco since such records began in 1874, but of course that is nothing for our hardened Virginia-in-August survivors.
Professor Claire McKinney said, "This was a memorable APSA in part because it was the site of some political organizing within the association itself. John Yoo, a professor of law at UC Berkeley and the author of the "Torture Memos" used by the Bush Administration to justify using torture in the interrogations of prisoners of war, spoke at two panels at the conference, which sparked in-person protests that objected to APSA as a forum for legitimizing the position of torturers and to the lack of say of the membership in the extension of his invitation. Through the work of a political theorist, Jeanne Morefield, and other organizers, a new resolution is going to the Ethics Committee of APSA to hold the organization responsible for responding to concerns about ethical abuses committed by its members."
In addition, Professor McKinney's contribution to the conference included two new papers that will eventually become chapters in her book manuscript. The first paper connects the development of pro-life ethics in the U.S. pro-life movement to theories of medical and biological truth and theories of history, and the second paper uses the work of philosopher Simone de Beauvoir to think about how feminists might rearticulate why we need not only a right to abortion but political contestation that ties access to abortion to women as ethical and political subjects. These working papers were the result of her summer work. She also served as a discussant, which is the role on a panel that comments on the papers presented. Professor McKinney had the pleasure of reading and commenting on great emerging scholarship from professors and graduate students from California, Colorado, and Turkey.
Overall, the conference was a great success! The Department was represented well by multiple professors who made an impact on their colleagues and were able to share their current research and discuss issues in the field. We are excited to see how they can incorporate their new perspectives back on campus!