Book Workshop Brings All Ideas to the Table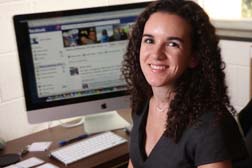 Researching and writing a scholarly book can be a solitary, often lonely process. Professor Jaime Settle (Government) took a different approach in developing her book manuscript, Frenemies: How Social Media Polarizes America. The manuscript is currently under review at Cambridge University Press.
In Fall 2016, the Government Department hosted a book workshop that invited four senior scholars to join several W&M faculty members and Professor Settle in a day-long discussion and critique of the manuscript. The event was funded in part by the Arts & Sciences Annual Fund.
"I proposed an A-list of outside scholars to invite to the workshop, and was delighted that all four accepted," said Settle. "Students in our SNaPP Lab attended and were able to observe how scholars have these kinds of intellectual interactions. I think they found it eye-opening!"
The practice of "workshopping" a book before it's submitted to a publisher has gained momentum in the past decade. Rather than waiting for the publisher's blind peer review, scholars open their work for discussion while the manuscript is still being shaped and finalized.
"I knew from the start that I wanted this book to be accessible to and used by students," said Professor Settle. "Students in our SNaPP Lab have been involved for several years, and their contributions have been invaluable."
The lab's acronym stands for Social Networks and Political Psychology. Undergraduate students work collaboratively, under Settle's direction, exploring the biological, psychological, and social underpinnings of political behavior.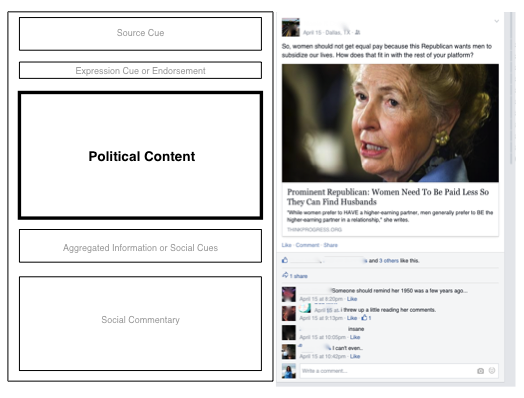 Students working on Settle's project have conducted bibliographical research, helped with the research design for new testing, and, as the manuscript took shape, checked references and contributed examples and anecdotes.
"This past year we tackled one chapter each week," said Settle. "Working with the students made me really slow down and think through the material. They also helped to get me tech'd up on the dozen or so social medias beyond Facebook, and encouraged me to tighten up my discussion of the differences."
After the workshop, Settle met with the students to review the scholars' discussion and distill their comments and suggestions. What advice was consistent? Contradictory?
As a result of the workshop, Settle decided to narrow the book's scope by focusing more intensely on people viewing social media postings as opposed to people posting content. She divided one chapter into two, to explore more big-picture ideas and provide more context. And she changed the way she's been teaching the material in an upper-level seminar, and is now overhauling the framework of another course.
"I'm incredibly grateful that this workshop happened," said Settle, "And that our students had the chance to participate."
Note: Other students that have been involved at some point in the development of this project: Dan Brown '19, Shannon Caietti '17, Taylor Carlson '14, Emily Draper '16, Sora Edwards-Thro '18, Cort Enoksen '15, Aidan Fielding '19, Mitch Hall '17, Zarine Kharazian '17, and Michael Payne '15.