Professor Sasser's Class Visits the US Supreme Court
McWilliams v. Dunn, a federal habeas case challenging an Alabama death sentence, asks whether criminal defendants who may be mentally ill have a right to an independent psychologist to assist in their defense. Mr. McWilliams was represented by Stephen Bright, a leading death penalty litigator and mentor and former colleague to Doug Ramseur, a Virginia Capital Defender who spoke to the seminar some weeks earlier. Dr. Evan Nelson, a preeminent forensic psychologist who often consults on death-eligible crimes, also discussed McWilliams' central issue—the difference between evaluating a defendant as a neutral or retained expert—with the students just days earlier.
The second case, Davila v. Davis, presents issues of effective assistance of appellate attorneys. During its argument several of the justices grappled with a question central to "Death is Different": How well does our criminal procedure, including its oversight by state and federal courts, allow for the discovery and amelioration of potential injustices? And even more fundamentally, is our death penalty practice one in which citizens can be confident? Arkansas's execution of Jack Jones and Marcell Williams late on the day of the students' visit, and Virginia Governor Terry McAuliffe's commutation of the death sentence previously scheduled to be carried out on Ivan Teleguz on Tuesday, 25 April, underscore the importance of these questions.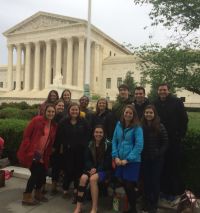 The two arguments were spirited, involving each of the justices but the preternaturally quiet Justice Clarence Thomas. Justice Neil Gorsuch participated in his fourth argument session since being confirmed, and justices Sonia Sotomayor and Elena Kagan led much of the questioning. The seminar also confirmed that Justice Kagan, who has spoken often of the junior justice's traditional role on the Court's Cafeteria committee, gets her own morning coffee there.
Sasser and his students are regular visitors to state and federal appellate courts. His seminar on "The Warren Court Then & Now" attended a rare en banc rehearing before the Richmond-based United States Court of Appeals for the Fourth Circuit in March.