'Mr. Blackstone': Alumnus serves as mayor and newspaper editor in Virginia town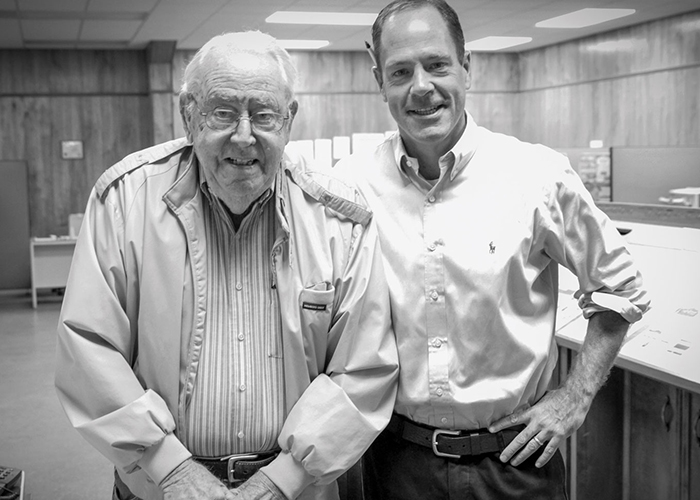 The following story originally appeared in the spring 2021 issue of the W&M Alumni Magazine. - Ed.
If Blackstone is a small pond, then Billy Coleburn '90 is a big fish as both mayor of the 3,600-person Southside Virginia town and editor of the independently owned Courier-Record newspaper. He presides over Town Council meetings and reports on government actions. He throws the ceremonial first pitch at little league games and covers the crowning of the prom king and queen.
But when he arrived at William & Mary as a freshman in the fall of 1986, he felt like a fish out of water. To start with, his Southern accent stood out, even among other students from Virginia. And he had a nagging feeling that he wasn't smart enough to be at William & Mary.
"When my parents drove away, I sat outside Fauquier dorm and cried and shook like a baby — and then proceeded to party my way to forgetting about how much I missed my small-town home," he says. "Then gradually as I got into the flow of William & Mary life, I realized that I had skills — I can write and I can speak."
Although he returned to his hometown after graduation, Coleburn was profoundly changed by his experience at the university.
After growing up in a racially segregated environment, William & Mary exposed him to a diverse student population. As a political science and government major, he learned about the history of the Voting Rights Act, the dangers of the executive branch holding too much power and the importance of transparency and accountability in government — lessons that would guide him both as a journalist and as an elected official.
Finding his path
As a freshman at W&M, Billy received some much-needed encouragement from English professor Henry Hart during a Writing 101 class.
"This was a time when I didn't have a lot of self-confidence," Coleburn says. "He told me, 'You remind me of a young Hemingway. Your writing is very clear.' Professor Hart's positive comments freshman year really helped sustain me at times when things got tough."
Coleburn recalls that his parents received a report card in the mail that year with the following grades for his five classes: A, B, C, D, F. The "F" was in a religious studies course on Christianity.
"My mother, typical Southern lady, said, 'Son, you've been to church all your life. How did you fail Christianity?'" The course was challenging, he told her. Still, he acknowledges, "I played too much."
That same year, Coleburn got into some disciplinary trouble after a night of partying. He and a friend walked by the president's house — then occupied by Paul Verkuil '61, D.P.S. '17 — and spotted a trip wire that had been placed under a trampoline in response to students sneaking in and jumping on it.
"The next thing I know, my friend pulled the trip wire and police were everywhere," Coleburn says. "I ran all the way to Jefferson dorm and they caught me."
His punishment was community service doing safety patrols around campus and reporting any suspicious activity. This eventually led to a paying job, which is how he came to know his wife, Joyce Anzolut Coleburn '90, who worked at Tucker Hall checking students' IDs. A Cleveland, Ohio-area native, Joyce was introduced to William & Mary as a sixth-grader when her late father, Richard Anzolut '51, took her to Williamsburg.
"At the end of junior year, I walked her back to the Phi Mu sorority house, and I just kind of had this feeling — why don't I ask this girl out?" Billy says. The next fall, just before classes started, he saw Joyce with a friend at Paul's Deli and they struck up a conversation. Joyce says she was charmed by Billy's sense of fun, Southern accent and gentlemanly politeness.
"We've been inseparable ever since," Billy says.
Well, almost. After graduation, Joyce went to live with her parents, who by then were in the Harrisburg, Pennsylvania, area. Billy started working at the Courier-Record, which his family had acquired in 1946 and where his father, Doug Coleburn, had been editor and publisher since 1948. Doug Coleburn retains the title of publisher and still writes columns for the Courier-Record at age 93. He was inducted into the Virginia Communications Hall of Fame in 2020.
Newspapers such as the Courier-Record, established in 1890, are declining in number nationally as
more independently owned publications are bought by corporate chains. According to a report by the University of North Carolina's Hussman School of Journalism and Media, half of all weekly newspapers in the country were independent in 1997. By 2018, fewer than one-third of the 5,829 U.S. weeklies with circulations under 15,000 were locally owned.
"It's challenging because in a small, rural town, the number of decision-makers in business who can buy advertising has decreased," Billy says. Another concern is social media taking up readers' attention span, with people reacting to headlines rather than reading the full story, he says: "They'll say, 'I heard about that. I saw it on Facebook.' But you didn't see the truth. You saw what somebody said that somebody said. So that's troublesome for our product."
The Courier-Record is holding strong with a print circulation of 5,000, which is larger than the number of people living in Blackstone and about a third of the population of surrounding Nottoway County. The newspaper also offers digital subscriptions, and Coleburn encourages a social media following through his "Facebook Live" reports and other posts.
Living and working in close proximity to readers promotes accountability, he says: "I see the people at Food Lion, the post office and at church. I think that aspect makes you a fairer journalist."
Billy had resisted the idea of joining the family business at first. He'd seen how hard his father worked and decided the newspaper life was not for him. During the summer of 1990, he applied for jobs but wasn't having much success getting interviews.
Then at William & Mary's Homecoming that fall, he heard friends talk about the noise, traffic and high cost of rent in Northern Virginia and a realization hit him: "I'm not making that much money, but I live in the town that I love. My parents are nearby. I enjoy telling stories. All of a sudden I thought, 'Maybe this is what I was meant to do.'"
He could see that his stories were making a difference in people's lives.
"I call it refrigerator-door journalism," Coleburn says. "You can win all the awards you want — and I've been blessed to win a few — but when I go into someone's house and see a news clipping on the side of their refrigerator, that means more to me than any plaque."
When Billy and Joyce were married Dec. 7, 1991, in the Wren Chapel, there was no question of them living anywhere but Blackstone.
"It's kind of like when I married Billy, I married the town," says Joyce, laughing. "He's always been 'Mr. Blackstone.' He knows everyone."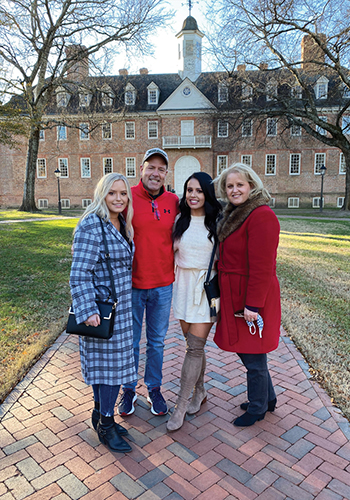 But while she gladly accepts the honorary title of "first lady of Blackstone," her professional life has always been outside the town — first as director of annual giving for Longwood University and now as an education account executive for Honeywell, serving 20 school districts in the region. As a member and former president of the Southside Virginia alumni chapter, she has helped maintain connections to William & Mary and led efforts to fund a scholarship for a student from the region.
The Coleburns have two daughters: Caroline, who followed her father and grandfather's footsteps into journalism and works as a television news reporter in Richmond, Virginia, and Mary Katherine, who will start a graduate program in school psychology at William & Mary this fall.
Accessibility and representation
Journalists and public officials sometimes find themselves at odds given the traditional "watchdog" role of newspapers, but Billy Coleburn says the key to navigating the dual roles is fairness and transparency.
That's especially important in a locality that's almost evenly divided between Blacks and whites, Democrats and Republicans. Coleburn, who is conservative politically, won reelection as mayor in 2018 with 72% of the vote against a Democraticleaning opponent.
Billy grew up attending an all-white private school and playing baseball in a segregated little league, but as mayor and newspaper editor, he strives to ensure that everyone's voice can be heard.
Lewis "Peanut" Johnson, a community advocate who occasionally has bumped heads with Coleburn, says that after he expressed concerns about the need for more recognition of African American residents, the mayor initiated a Black History Heroes program during the month of February to highlight Blackstone natives who achieved success despite the racial barriers they confronted. Coleburn also supported a proposal from Johnson and other Black residents for a March Against Racism in 2019. The mayor participated in the event, and he has encouraged Johnson to keep attending meetings and speaking up.
"He's one of those guys who you can go talk to," Johnson says. "His door's open. If he disagrees, he'll let you know in a nice way. He won't embarrass you in front of everyone. He's a man of integrity."
Coleburn says he first decided to run for mayor of Blackstone in 2006, after 16 years of covering meetings for local governing bodies, because of frustration with how unresponsive he felt elected officials were when residents voiced concerns at meetings.
"There was very little dialogue between elected officials and those they serve," he says. "As mayor, I love a packed house because everyone's watching. Government that is watched governs best."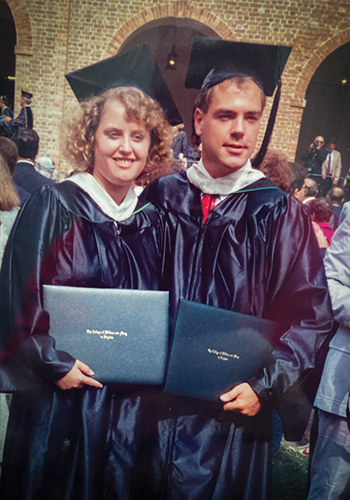 Government oversight also has been a focus of his newspaper career. Coleburn's influence extends beyond the Courier-Record as a General Assembly appointee to the Virginia Freedom of Information Act Council, which reviews changes to the state's open-records law and makes recommendations to the General Assembly.
"Billy plays an important role in providing government transparency and protecting a free press," says Betsy Edwards, executive director of the Virginia Press Association. Coleburn also served on the association's board from 2016-20.
Many of the issues related to the Freedom of Information Act involve local government, and as the only member who is both an elected official and a journalist, Coleburn can see things from both sides, Edwards says. When local government officials on the council make excuses for why they can't provide information, he challenges them.
"He's a local official and knows what it's like to have to answer questions," she says. "He believes in giving the public as much information as you possibly can. Billy gives out everything that's required and often is looking for ways to give out further information. It's a real breath of fresh air for the FOIA council."
Despite his popularity as mayor, Coleburn says he does not plan to run again in the next election, which will be held in November 2022 now that the governor has signed legislation moving local elections from spring to fall.
"I've been a big believer in term limits," he says.
Would he consider seeking a higher office — perhaps a member of the Virginia House of Delegates? State Senate? Governor?
"I'd be lying if I said I never thought about it," Coleburn says. "I can't say I might not put my foot in the stream again. But right now I'm ready to go back to the shore."