W&M Alums Talk About Their Health Policy Careers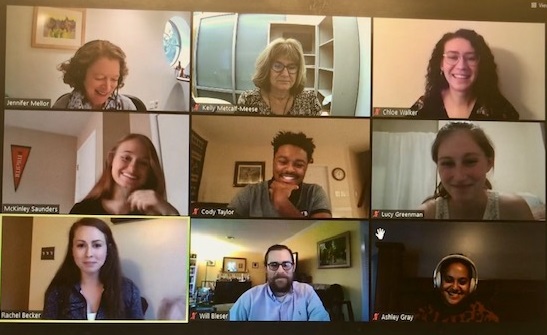 On Monday, September 28, the Schroeder Center for Health Policy hosted a virtual panel for 30 students interested in pursuing a health policy career. The panel focused on helping students understand what a career in health policy can look like and the best ways to pursue it. Jennifer Mellor, Director of the Schroeder Center and Professor of Economics, moderated the discussion with William & Mary alum panelists Rachel Becker, McKinley Saunders, Ashley Gray, and Will Bleser.
Rachel Becker ('19, Government) works as Policy and Communications Advisor to the Secretary of Health & Human Resources in the Virginia Governor's Office, where she manages legislative work groups, including one on health insurance reform.
McKinley Saunders ('19, Economics) works as an Economist at the Center for Health Policy Science and Tobacco Research at the Research Triangle Institute (RTI) International, where she conducts quantitative analysis involving health policy and tobacco research with a specific focus on social groups who suffer from health disparities.
Ashley Gray ('14, MPP) is the Lead Health Domain Specialist in the Health Federally Funded Research and Development Center for MITRE Corporation, where she focuses primarily on research and analytics related to Medicaid.
Will Bleser ('09, Neuroscience) is Managing Associate of Payment Reform and Population Health at the Margolis Center for Health Policy at Duke University. Dr. Bleser's work "revolves around addressing key policy questions related to health care delivery, with particular attention to the overlap of health care payment reform and population health." 
The interdisciplinary nature of the health policy field was on full display when a student asked the panelists if they had intentionally planned for a career in health policy. Becker said that she never expected to work in health policy and that she did not even take any health policy undergraduate classes while at William & Mary. Bleser said that he was always interested in health but that he originally wanted to be a doctor. However, both said that the skills they learned from their liberal arts education at the College were instrumental not only in finding their careers but also in their daily work.
Another student asked the panelists what skills they used most in their jobs. Gray talked about the importance of qualitative analysis in addition to quantitative analysis in conducting health policy research.  Bleser explained that the ability to write for different audiences is one of the most important skills used in his job. 
When asked about job interview and resume advice, Saunders and Becker both suggested taking advantage of College resources, such as the Cohen Career Center. Gray said that students interested in health policy should show intellectual curiosity on their resumes and to keep resumes to one page, if at all possible. She said that internships can be especially helpful in developing such a resume and urged students to explore internships in multiple fields.
The last and most poignant question of the night came when a student asked the panelists if they would change anything about their undergraduate experience knowing what they know now. Saunders said that she wishes she had started building relationships with mentors earlier. She told a heartwarming story about how the course of her college career was changed by simply introducing herself to Professor Mellor after a lecture during her junior year.
Becker concluded the evening by imploring students to focus on what is right in front of them. She assured the audience that no matter how stressful the career search becomes, they will end up where they are meant to be.