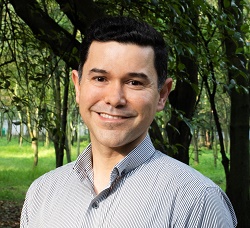 Fernando Galeana-Rodriguez
Assistant Professor of Sociology and Integrative Conservation
Office: Boswell Hall 213
Email: [[fgaleanarodrig]]
Areas of Specialization: Environmental Justice, Sociology of Development, Political Ecology, Critical Agrarian Studies, Indigenous and Native Nations
Office Hours : Wednesday 2:30-4:00 p.m. or by appointment.

Education
B.A., Economics, Stanford University
M.A., International Relations, Johns Hopkins University
M.S., Development Sociology, Cornell University
Ph.D., Development Sociology, Cornell University
Research
Professor Fernando Galeana Rodriguez studies the contribution of land governance and land tenure reform to biodiversity conservation and human wellbeing. His research focuses on the social and environmental transformations surrounding the legal recognition of collective land and resource rights. He has conducted ethnographic fieldwork in Honduras's Moskitia region, principally with the Miskitu people. By examining the political economy of property rights, the struggles for self-determination, and agrarian transformations, his research seeks to contribute to academic and policy dialogue on territorial rights and integrative conservation.