White House Press Secretary to speak at William & Mary's Opening Convocation
Editor's note: White House Press Secretary Jen Psaki '00 will be unable to speak at William & Mary's Opening Convocation due to an unanticipated conflict in scheduling. Judge John Charles Thomas HON '18, the first Black justice appointed to the Supreme Court of Virginia and a former longtime member of the William & Mary Board of Visitors, will now serve as the keynote speaker at the event. Psaki's visit to campus will be rescheduled for a later date. Read more. Additionally, due to heavy rain and possible thunderstorms expected in the area, Opening Convocation Ceremony will now take place at 8 p.m. on Wednesday, Sept. 8 in the Wren Yard. The update has been made in the text below. Read more.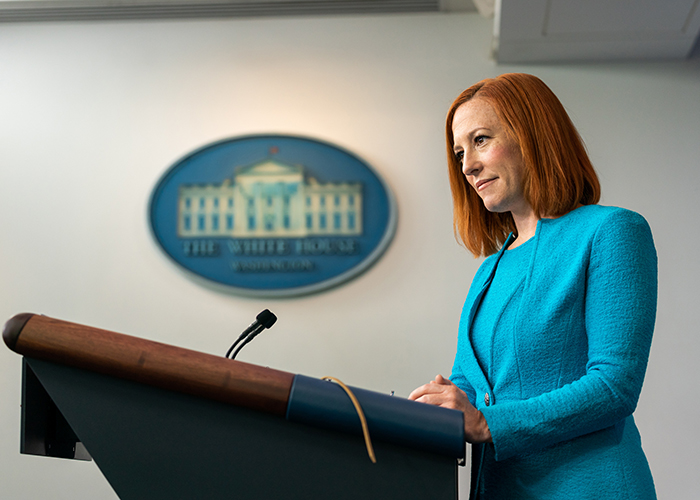 White House Press Secretary and William & Mary alumna Jen Psaki '00 will speak at the university's 2021 Opening Convocation ceremony, scheduled for Sept. 8 at 8 p.m. in the Wren Yard.
The annual tradition serves to welcome W&M's newest students to campus. Because last year's event was virtual due to COVID-19, this year's in-person ceremony will not only celebrate incoming students but also all students who joined the university community in the 2020-2021 academic year.
Both groups of students are invited to participate in the event, including the traditional walk through the Wren Building at its conclusion.
"This is such an important moment for our community," said President Katherine A. Rowe. "Students and alumni cherish it. Staff and faculty experienced it first-hand, this summer. Thanks to our commitment to the health and safety of the W&M community, we will gather to celebrate the opening of the academic year.
"As White House press secretary during 2021, Jen Psaki has had to navigate a unique set of circumstances under pandemic. She has used all her William & Mary skills to communicate the decisions and vision of the president to the country. We are honored to have her return to Alma Mater, and we look forward to hearing her message for students as we kick off a new year together in person."
Psaki, who double majored in English and sociology at W&M, took on her current role in January 2021 when U.S. President Joe Biden took office, and she oversaw the confirmations team for the Biden-Harris transition. During the Obama-Biden administration she served as deputy White House press secretary and deputy communications director. Other senior roles during that administration included terms as White House communications director and State Department spokesperson under then-Secretary of State John Kerry.
She is a veteran of three presidential campaigns. Psaki served as deputy press secretary in John Kerry's 2004 campaign, as traveling press secretary in 2008 and then as traveling press secretary and senior advisor in 2012 during the Obama-Biden campaigns. Psaki has also served as spokesperson for the Democratic Congressional Campaign Committee and as communications director to former Congressman Joe Crowley.
Prior to joining the Biden-Harris Transition Team, she was the vice president for communications and strategy at the Carnegie Endowment for International Peace and a CNN contributor.
While a student at W&M, Psaki was a member of the swim team and Chi Omega sorority. She also served as a campus tour guide and admission intern. Psaki has remained closely tied to her alma mater since graduation. She was featured on the cover of the spring 2021 W&M Alumni Magazine and recently threw out the first pitch at Nationals Park for W&M Day on July 18. 
In addition to speaking at Opening Convocation, Psaki will meet with small groups of faculty and students the day of her visit.