Creative Writing Program Announces Hayes Writers Series for Spring 2016
Graphic Memoirist Nicole Georges
February 17, 2016, 5 PM at Tucker Theatre, Tucker Hall Rm. 127A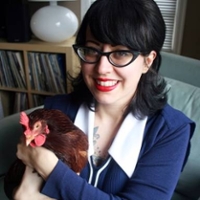 NICOLE GEORGES is the 2016 Scott and Vivian Donaldson Writer-in-Residence at the College of William & Mary.  She is the author of the autobiographical comic zine Invincible Summer and the graphic memoir Calling Dr. Laura, which won the Lambda Literary Award for LGBT Graphic Novel at   the 26th Lambda Literary Awards in 2014.
Poet Shonda Buchanan
March 17, 2016, 5 PM at Tucker Theatre, Tucker Hall Rm. 127A
Award-winning poet, memoirist, and fiction writer SHONDA BUCHANAN is the author of Who's Afraid of Black Indians?, nominated for the Literary of Virginia Literary Contest and the Black Caucus of the American Library Association Literary Awards.  Featured on National Public Radio's Tell Me More, her work explores gender, ethnicity, family, heritage, landscape, environment and ancestry.
New Yorker writer and memoirist William Finnegan
April 14, 2016, 7 PM at Tucker Theatre, Tucker Hall Rm. 127A
WILLIAM FINNEGAN, an award-winning journalist and staff writer for The New Yorker, has built his career on stories of human conflict: political strife in Africa and Central America, water wars in Bolivia, drug murders in Mexico, human trafficking in Moldova. His fifth book, Barbarian Days: A Surfing Life, is a memoir of his youth as a hard-core surfer whose obsession began as a ten-year-old in Los Angeles. 
April 25, 2016, 5 PM Tucker Theatre, Tucker Hall Rm. 127A
Alumni Student Literary Prizes
All events to be held in the Tucker Theater on the William & Mary Campus
All events are free and open to the public.
 The Writers Series is made possible by a generous bequest from the late Patrick Hayes, longtime friend of the College.  For further information, contact Prof. Nancy Schoenberger at njscho@wm.eduor Brian Castleberry at bcastleberry@wm.edu.