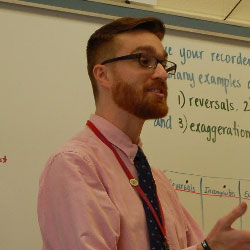 Cody Sigmon '13
8th Grade English Teacher
My first job was working at a low-income middle school in Chesterfield County as a 7th grade English teacher. I started this job a year after graduating from W&M; in the intervening year, I earned a Master of Arts in Secondary English Education from Stanford University.
While literature was certainly something that I enjoyed, studying English at William & Mary was much more than appreciating fine writing. I learned to read closely, meet deadlines, write concisely, and pursue topics that interested me - and now, in turn, I strive to impart these and other skills to my students. Together, we read and write in order to think more deeply about the world and our roles in it.
In most states, you cannot be a certified teacher unless you have taken a specific amount of education coursework. You must either be an education major (usually a double-major) as an undergraduate or have a master's degree. Additionally, your undergraduate major must have covered specific subjects since you are expected to have an encyclopedic knowledge of your field. If you're considering teaching, it's important that you talk to an academic advisor to make sure your major covers everything it should.
I would also say that a major alone isn't your ticket to a career. When you major in one subject and don't do much outside of academics, I don't think that's very impressive to employers. They want to see evidence of a well-rounded, forward-thinking, hardworking individual who has background knowledge in their field. So, are you involved in things you're passionate about? Are you studying abroad? How have you changed William & Mary for the better? How are you ensuring that you're growing as a person? Are you majoring in something else, or perhaps minoring in something? I volunteered, I led clubs, I was an activist, I worked a job, I studied abroad, I advocated for myself - none of which were required by my major.
English majors who are interested in teaching may want to know that English is considered a high-need field in Virginia. For that reason, you qualify for a $4,000 grant toward your schooling if you work at a low-income school as an English teacher. You can also forgive $5,000 of your Federal Unsubsidized Loan after 5 years at a low-income school. So if your master's in teaching from W&M costs you in the neighborhood of $20,000, nearly half of it is paid off. If you choose to stay in teaching for 10 years, and if you pay on your loans every month, you can have the remainder forgiven under the Public Service Forgiveness program.