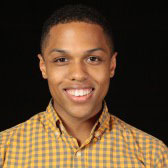 Marvin Shelton'14
Graduate Student and Educational Consultant
After leaving William & Mary with majors in Africana Studies and English, I attended the University of Pennsylvania's Graduate School of Education to further develop my undergraduate research interests in the experiences of queer students of color in academic spaces. My undergraduate thesis influenced me to continue my studies, especially my love for literature and how to produce representation through it. What I have enjoyed most are the brilliant minds with which I get to work. I feel that I have been able to meet radical thinkers interested in social justice in education just like my own. In addition, these students are much older than I am, so they come with teaching experiences and literature that I have never had or read about.
My graduate program is titled "Education, Culture, and Society" in Penn's Graduate School of Education (GSE). My program exposed me to new research methodologies, research experience, practical experience, and connections to prominent professors in the fields of sociology, anthropology, and education. What I found to be most surprising was that the program flowed so well with how and what I studied. Other than reading a ton of ethnographic research, I have been able to explore how literature functions as a mechanism for change in the lives of underrepresented students in the academy.
My employers at the Free Library of Philadelphia love the fact that I can analyze and produce pieces of writing. This job requires me to create scripts, give presentations, and to write at some points. Therefore, I employ all of my skills from English and Africana Studies. I am currently working as a Team Leader for and Mentor to a group of fifteen low income, racial minority students in the Philadelphia area. The program is officially titled the "Philadelphia Youth Network." And, yes, it pays a livable wage.
I know for a fact that I am always ready to put down that I have qualitative methodological experience on my résumé because the skills I learned are real and valuable Everyone should be involved in some form of research if they plan to continue their studies, and it was through conducting my own research that I shaped my career trajectory. What I most appreciated about English department classes is that they allowed me to cross-list courses with my other major, which allowed me to maintain my writing and analytical abilities while still learning about myself as a low income, first-generation, Black, queer student.