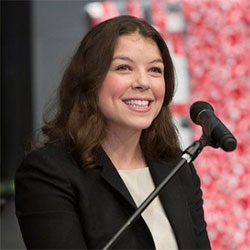 Charlotte Savino '08
Law Clerk at Davis, Polk and Wardwell LLC
After I graduated from William & Mary with a double major in English and Chemistry, I started at American Express Publishing, working in online media for TravelandLeisure.com and FoodandWine.com. I began my job there immediately after graduation because I had interned the summers prior and maintained those relationships my senior year. After American Express, I worked in graduate admissions at Duke University and spent three years at Cornell Law School earning my J.D. Law school is unlike anything else: it involves learning a new language and a new way of reasoning. Law, like English, is a non-linear field, but being an English major made it easier to handle the reading and writing required and also to see multiple sides and nuances to arguments.
I value the few false starts in my career. The itch to find a better professional fit motivated me to go to law school and helped to keep my legal work in perspective. The myopic nature of a graduate program is best remedied with some context, and in my case that was five years between my bachelors and starting my J.D.
Close reading and attention to language came directly from my time in the W&M English department. Similarly, the time spent working on library-based research for theory and secondary sources seemed tedious as a nineteen-year-old, but that time amounted to a very portable skill. The senior thesis was a great way to work independently on a long-term project; I'm so grateful for that opportunity to learn how to self-schedule and handle autonomy for the first time in my academic life. I remain incredibly proud of that document.
Looking back, I wish I had someone tell me a few caveats about my time in the English department: the publishing field actually requires a bit of computer programming these days, so take a class or two; don't feel bad if you don't want to go into academia. Although the bachelor's degree is a strong foundation for most jobs, for me the most important tools have been inappropriately named "soft" skills: networking, self-awareness, and communication. The English department fosters these interpersonal skills in its small seminar classes, opportunities for presentations, and collaborative work. The senior thesis provided a tangible capstone, not only for research and writing, but for solidifying the mentorship relationships forged with my advisor and committee-members. In my peripatetic route to my law career, I remain very happy with my choice to major in English at William & Mary.