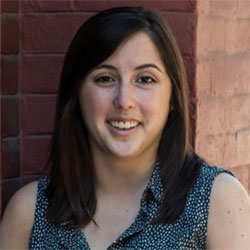 Ellie Kaufman '13
News Assistant, CNN
My first real job after William and Mary was working for AidData as a Communications Associate for a year. AidData is an international development nonprofit that is associated with the college, so technically my first job was working for William and Mary in a way. I started working at AidData as a Communications Consultant two weeks after graduation, and I was hired full-time mid-July. In this role, I worked on the nonprofit's communications in various forms. I managed the organization blog, managed all of AidData's social media accounts, wrote the newsletter, wrote news articles for the University and AidData's blog, and assisted in research and writing policy papers with nonprofit partners.
My next position was a six month fellowship program with The Huffington Post. There, I worked with the social impact team managing editorial platforms sponsored by brands with a social mission. After that, I went to work for Mic, a news website, as a branded content staff writer for about a year and a half. At Mic, I wrote feature articles sold to advertisers about a variety of topics. Three months ago, I started working at CNN as a News Assistant on the New York bureau. Here, I report on stories and assist in newsgathering efforts for any news in the northeast region. I write stories for the website, produce stories, help make video packages for TV, and gather editorial information.
Although I may have had a few more jobs than some other people who graduated at the same time as me at this point, I am happy that I've had the opportunity to work at a few different organizations and figure out what I like in a company culture and work environment. I am glad that my first job was at a very small, start-up type organization, because I was able to take on a lot of responsibility at a young age. I'm happy that I've had a few jobs in media so far, because I feel like I have a much better understanding of the industry now. The fellowship was a good opportunity to decide whether or not I liked The Huffington Post without committing to a full time job, and it allowed me to move to New York and break into the media industry. So far in my career, I have taken risks and taken some low paying or unstable opportunities in order to move forward in my career. So far, they have all worked out and paid off. I'm glad I've taken these risks while I'm younger and at the beginning of my career, when I have less responsibility and expenses overall. You can't go big without taking some risks, right?
Without knowing how to understand an argument, to formulate and articulate coherent and complex thoughts in a concise way, to synthesize complicated or dense texts in an essay, I wouldn't have my job or be able to do it in the way I can now. I really attribute most, if not everything, I've learned about writing to the English department. I learned some things about writing in high school, but I don't feel like I really developed as a writer until I got to college. The longer essays I had to write in my English classes helped me figure out how to synthesize complex texts in a coherent manner. I also discovered two of my favorite writers in these classes that I continue to hold as my writing idols: Ernest Hemingway and Virginia Woolf. Can you tell I really loved my English major?
But having said that, it's also true that beyond looking at what your major was, people are much more focused on your job experience than what you did in college. One of the things that has been the most helpful on my resume is my four years of experience on my student newspaper, because I work in journalism. My biggest piece of advice to current English majors would be, don't listen to people who keep asking you if you want to teach. If you are studying English to be a teacher that is great! But I had so many people ask me over the years, "oh what are you going to do with an English major? teach?" The answer is, English majors can do a ton of things. You aren't confined to a very specific career path like pre-med students or pre-law students. You're a great writer, and you understand how to read and comprehend complex information, and then write about in a coherent way. Honestly, the job opportunities for those skills are endless. You just have to get creative.