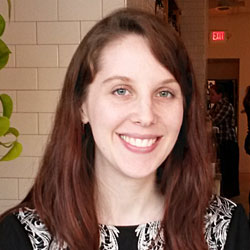 Katherine Arcement '13
Mobile Producer, The Washington Post
My first job after I graduated William & Mary in May '13 was as a copyediter. I was hired to copyedit student law journals at William and Mary's Law School, and I started three weeks after graduation. I am now in my second full-time position, working as a web producer at The Washington Post, which I started in September of '14. Between those two jobs I had an internship at NPR in Washington, D.C.
As a web producer I spend a lot of time watching the news and monitoring our content management system. All day long I track the news that comes through the Post on my shift. My co-workers are mainly other producers, or senior editors who help guide our coverage. My team consists of about fifteen people, and we specifically build and produce for the Post's mobile and tablet app. It's an office full of smart people who like to talk about the news, which I like, and also occasionally sports, which I now know much more about.
I think being an English major was seen as an asset by my current employers. Having a good academic record was also an asset. However, employers also want to hire people with a track record, who have proven they can do things, and what helped me prepare for those questions was studying the industry and being able to participate in the big-picture questions that guide employees in my field. In journalism right now, this means thinking about how technology is intersecting with the media. In other fields, this kind of question could be as simple as learning about the underlying mission of the organization.
I prepared for job searches by reaching out to other alumni in my field - to many, many people - by learning about organizations that I was interested in, asking questions, and learning about the issues. Résumés matter, and cover letters matter, but being able to communicate a big-picture goal in person is what has been most essential to my interviewers.
In college I was fortunate to contribute to the London Review of Books, which came about after I wrote and submitted an essay originally meant for a nonfiction writing workshop at William & Mary. Since joining the Post as a mobile producer, I have also written and reported for several Post blogs. In both cases, I found that the things you work toward in your off-time can benefit your main job and projects.