Innovation Grant Awarded to Redesign Two Intro Courses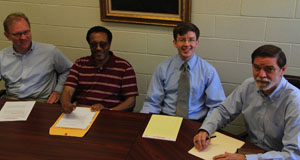 When the Provost's Office announced a Creative Adaptation Fund in fall 2011, four professors in the Economics Department decided to take up the challenge. The fund calls for faculty to recommend innovative cost-saving and revenue-generating proposals to improve the quality of the College's educational programs. 
The group set its sights on improving two Economics icons – the Principles of Microeconomics and Principles of Macroeconomics classes.
"More than 1,600 people take these two courses each year, and there are upwards of 120 students per class," says Economics professor Peter McHenry. "They are very popular, and the classes tend to be pretty homogeneous at most schools across the country."
Taught in a large-lecture-hall format, the classes are required for Business, Economics, International Relations, and Public Policy majors. They also fulfill the Arts & Sciences general education requirement for social science.
"There seemed to be good potential here to make a change for the better," says McHenry. "More and more research uncovers that the traditional lecture-exclusive 'chalk and talk' is not the best way to learn. It is well known that students learn better when they are actively engaged with the material to be learned."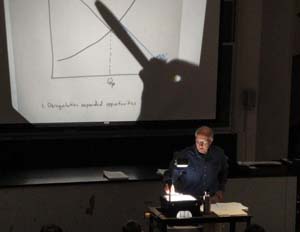 McHenry continues, "One way to make it better would be to decrease class sizes to 20 students. That would add 50 sessions, and we would need to increase our faculty size by 50 percent. We obviously don't have the resources for that. Our challenge was to create an active learning experience in a large-class environment."
In February the Provost's Office approved the proposal, and over the coming summer Economics professors Berhanu Abegaz, Robert Archibald, Till Schreiber, and Peter McHenry will hash out the redesign details. Their approach involves dividing the course experience into (a) lectures that focus on applications of economic models and (b) online course modules that guide students to discover the models. 
"We realized that there are certain things that work well in a lecture format," says McHenry. "For example, storytelling, which is content that the students don't need to interact with as much, like describing the application of basic economic models in relation to real world situations."
Another set of material can be better learned through an interactive format. For this material, the team will design computer-learning modules as exercises in which students gain first-hand experience with the economic principles they need to learn.
"Teaching the mechanics of economics should be more interactive, and students can benefit from more hands-on learning. For example, through this new computer program students could build models and understand what a demand curve is and why it slopes down. Some students get this content faster than others, and this new program will allow students to engage these ideas in their own time-frame."
Next fall, McHenry will teach the redesigned format in two of the six Principles of Microeconomics sessions. Rather than three days of lecture, the revised classes will feature two days of lectures and one online course module a week. The team is looking into purchasing an existing economics computer program. They are also considering designing a program of their own. Part of the grant money would pay for a programmer to develop a program to specifically meet their expectations for learning.
"If we are successful, these computer-based modules will actively engage the student in discovering economic principles," says Economics professor Bob Archibald. "The lecture portion of the class will then be able to focus on applications of the principles the students have discovered as they work with the modules. Our hope is to develop a course that improves learning outcomes and can be taught in even bigger sections."