Four New Law Professors Bring Intellectual Diversity to Classroom and Community
After two successful hiring seasons, William & Mary Law School welcomed four new full-time professors to its ranks in 2010 and 2011. Sarah L. Stafford joined the law school as the Paul R. Verkuil Distinguished Professor of Public Policy, Economics and Law, a joint appointment between the Law School and the Department of Economics. Associate Professor Jason Solomon joined the law school from the University of Georgia. Assistant Professor Allison Orr Larsen also joined the law school faculty in the fall of 2010; Assistant Professor Tara L. Grove joins the faculty in the fall of 2011.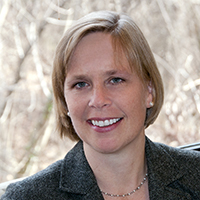 "William & Mary Law School is fortunate to have appointed four such stellar scholars and teachers," says Law School Dean Davison M. Douglas. "Each of them brings a unique perspective and set of skills to our growing faculty. We welcome them to our community."
 Sarah L. Stafford received her BS in Foreign Service from Georgetown University and her PhD in Economics from Johns Hopkins University. She joined the College of William & Mary faculty in 1998. Her teaching interests include law and economics, regulation, environmental economics and industrial organization. Stafford's research focuses on the effect of environmental regulations on firm and industry behavior.
"I always thought law was interesting, just not as interesting as economics, so I decided to get a PhD in economics rather than go to law school," laughs Stafford. "When I first started teaching, I thought that two of my economics classes would be improved by a fuller understanding of the law, so I sat in on Professor Alan Meese's Antitrust class and his Economic Analysis of the Law class. Eventually I was asked if I'd like to teach in the law school and I jumped at the chance. I love teaching undergrads, but I was really excited about teaching law students -- the dialogue in my law classes is very different from that in my undergrad classes, and I love getting to teach both groups."
In addition to her teaching and scholarship, Stafford says she enjoys rowing on the nearby Chickahominy River. "I never rowed in College, but always thought it would be fun to learn. About four years ago I took a 'Learn to Row' class and started sweep rowing with the local rowing club.  Two years later, I learned to scull and bought my first boat."