Economics Merit Scholarships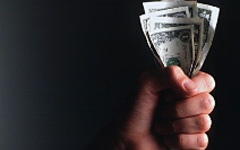 These awards are made possible thanks to the generosity of Eileen R. Glenn, Mr. and Mrs. Spencer Timm, Friends of Terry Glenn, Marian Y. Goble, and an anonymous donor honoring professors Robert Archibald and David Finifter. A committee of economics department faculty chooses the recipients of these scholarships.
Terry Glenn Scholarship
Terry Glenn graduated from William & Mary in 1963 with a degree in economics. He earned his JD from the University of Pennsylvania and spent two years in the Army. He was president and CEO at Carnegie Capital Management Company prior to joining Merrill Lynch in 1983, where he was an executive vice president for the rest of his career. Terry served as a trustee for the College of William & Mary Foundation from 1995 to 2005, working with the Investments Committee to help the College get the best possible returns on its investments.
Terry often spoke of how he was shaped by William & Mary's rigorous academics and inspiring professors. Several member of the Foundation Board asked how they could honor Terry and affirm the College's mission to help deserving students reach their full potential. Thus the Terry Glenn Scholarship Endowment was established, the income from which provides merit-based scholarships for students concentrating in economics.
Goble Scholarship
The Ross L. and Marian Y. Goble Scholarship Endowment was created in 2007 to provide merit based scholarships for students majoring in Economics. 
Archibald-Finifter Scholarship
The Archibald-Finifter Scholarship was established in 2010 for students majoring in Economics.
Robert A. Barry Award
The Barry Award is given annually to the graduating economics major determined by the faculty to be the most outstanding contributor to the department. The name of the individual receiving the award is placed on a plaque in the department office, and the individual receives a modest monetary prize.
Selby-Corey Prize for Academic Excellence in Economics Award
The Selby-Corey Prize for Academic Excellence in Economics is an annual award that shall be given at the end of the junior year to the most distinguished student in Economics. Students will be selected by their respective faculty, taking into consideration the degree of difficulty of their program of study within their discipline, the highest grade point average in their discipline, an overall grade point average in the top 1% of students in Arts and Sciences, and the quality of faculty-student research at William & Mary.