The CS Department Welcomes Five New Faculty Members
We are excited to announce five new faculty members joining our department, including Matthew Chapman, Ye "Ashley" Gao, Sidi Lu, Yanfu Zhang, Yixuan "Janice" Zhang. 

Matthew Chapman
Dr. Matt Chapman is a W&M graduate and an experienced computer scientist serving for over twenty-four years as an officer in the U.S. Army in a variety of positions both nationally and internationally, including combat and operational deployments in Europe, the Middle East, and Asia. Matt served in critical cyberspace operational positions including the Branch Chief for Command, Control, Communications, and Cyberspace (C4) Strategy and Architecture for U.S. Pacific Command, Chief of Cyberspace Operations for U.S. Pacific Command, Deputy Director of the Computer Science Program for the U.S. Military Academy at West Point (USMA), Chief of Computer Systems Engineering for the Joint Intelligence Center Pacific, and Stability Transition Team Leader in the Diyala Province of Iraq for the Department of State's Provincial Reconstruction Team. Matt is coming from the University of Hawaiʻi –West Oʻahu after developing and leading their NSA/DHS designated Center of Academic Excellence in Cyber Defense Education.  Matt earned both B.S. and M.S. degrees in Computer Science from William and Mary, and a Ph.D. in Computer Science from the University of Hawaii. 
Homepage Link: https://drchap.pages.wm.edu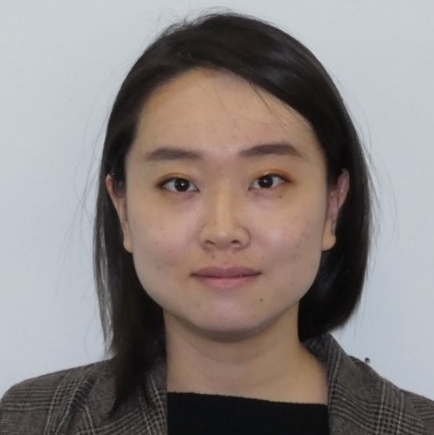 Ye "Ashley" Gao
Ashley (Ye) Gao obtained her Ph.D. in Computer Science from the University of Virginia (UVa, advised by Dr. John Stankovic), as well as an M.S. in Computer Science from UVa, a B.S. in Computer Science and a B.A. in Literatures of the World from the University of California, San Diego (UCSD). Her research interest lies in the intersection of domain generalization, transfer learning, and how to apply novel techniques in cyber-physical system applications. In particular, her research interest lie in the potential of domain generalization which facilitates a robust integration of novel deep learning algorithm and the application domain in cyber physical systems. Her research has been published in top-tier venues such as PERCOM and ACM HEALTH. She has received a Best Paper Honorable mention. Ashley is interested in broadening participation in computing: she hosted demo sessions as a graduate student to showcase her research to high school students of backgrounds that are historically underrepresented in STEM fields.
Research Interests: domain generalization, transfer learning, cyber physical systems, computing for healthcare
Homepage Link: https://lindagaw.github.io

Sidi Lu
Sidi Lu received her Ph.D. degree in computer science from Wayne State University in 2023. Her general research interests span edge computing, emerging mobility, and applied AI & data science, aiming to make networked, distributed, and autonomous systems more reliable, scalable, secure, and efficient. At Wayne State, she received the "Ralph H. Kummler Award for Distinguished Graduate Research Achievement" (awarded by the College of Engineering) and the "Michael E. Conrad Graduate Research Award" (awarded by the Department of Computer Science). Her work in vehicle computing has been highlighted by the Global Auto Mobility newsletter,and the disk failure prediction software and related dataset have been downloaded by researchers from 190+ institutions globally. Sidi has active collaborationswith Nokia Bell Labs, General Motors, Toyota, and Ford. She has published papers in top-tier conferences and journals, including USENIX FAST, ACM/IEEE SEC, IEEE/CVF WACV, and ACM TIST.
Research Topics: vehicle computing (e.g., connected vehicles, autonomous driving, electric vehicles, software-defined vehicles, and drones) and edge intelligence (e.g., smart home and smart manufacturing)
Homepage Link: https://sidilu.org

Yanfu Zhang
Yanfu Zhang obtained his Ph.D. in Computer Engineering from the University of Pittsburgh. His research area encompasses the domains of machine learning, data mining, and computer vision, with a primary focus on developing cutting-edge algorithms that offer innovative solutions to complex real-world challenges.  His recent work centers around advancements in graph neural networks, the development of efficient and robust representation learning techniques, and the pursuit of fairness-aware machine learning paradigms. Zhang's research finds meaningful applications in diverse fields such as medical imaging, multi-omics, and other emerging data mining and machine learning problems. His had published in top-tier conferences and prestigious journals,  including KDD, ICML, NeurIPS, ICCV, ECCV, WebConf (formerly WWW), ICDM, IPMI, MICCAI, Nuclei Acids Research, and PNAS Nexus. He served as a program committee member of various renowned venues, such as KDD, MICCAI, ICCV, etc.
Research interests: machine learning, data mining, computer vision.
Homepage:  https://yaz91.github.io

Yixuan "Janice" Zhang
Yixuan ("Janice") Zhang received her Ph.D. in Human-Centered Computing at Georgia Tech and will join W&M in the Fall of 2023 as an assistant professor in the Department of Computer Science. Her research broadly lies in human-computer interaction (HCI), data visualization (VIS), equitable computing, and the interdisciplinary fields of crisis informatics and health informatics. She regularly publishes in premier HCI and visualization venues, such as ACM CHI, CSCW, and IEEE VIS. Her research has been well recognized by academia: she has received multiple Best Paper Awards and Honorable Mentions at top-tier venues; she was named a Rising Star in EECS 2022 and selected as a Foley Scholar (the highest award for excellence in research contributions to computing at Georgia Tech). The impact of her research extends beyond academia; for example, she was invited to present her work to broader audiences, such as the World Health Organization (WHO).
Research interests: human-centered computing (human-centered AI/NLP), human-computer interaction (HCI), data visualization, health informatics, crisis informatics, trust, and equity.
Homepage link: https://zjanice.github.io