Beth Block '08 Explores Roman Britain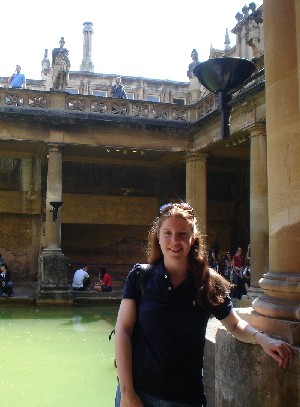 This summer I had the opportunity to study in England through William and Mary's summer program at Cambridge University. Thanks to the generosity of the Classical Studies Department, I was able to extend my trip and spend two weeks visiting various Roman sites throughout the country. As I am currently seeking my secondary certification to teach high-school Latin, my trip allowed me to gain important insight into the history, geography and cultural diversity of this important Roman province.
Highlights of my trip included seeing the Great Baths in Bath, the Fishbourne Roman palace in Chichester, and the in situ mosaics of the Canterbury Roman Museum. Splendid collections of Roman artifacts at museums in Circencester, Colchester, and St. Albans, as well as the vast repositories of the British Museum, provided me with countless opportunities to explore the process by which the Romans gradually took control of the British Isles. I am now armed with new posters, books, and hundreds of pictures to use in enhancing my students' understanding of the Roman world.
My trip would not have been possible without the support of William and Mary's scholarship programs. I was fortunate enough to receive both the William J. Hogan Summer Assistance Scholarship from the Classical Studies Department and the Kraemer Scholarship for Study in the British Isles from the Charles Center. As the exchange rate got progressively worse for the American dollar over the course of the summer, this financial support was a true godsend!
As I prepare to begin my student teaching in the spring, I feel confident that my adventures in Britannia have served me well. Thanks to missed trains, long lines, and undecipherable maps, I returned home more decisive, flexible, patient-all qualities that will serve me well as a teacher. On behalf of myself and my future students, I would like to say multas gratias vobis ago to the entire Classical Studies Department!
Beth Block '08 is a senior majoring in Latin and Secondary Education.