The Old Power Plant: 35 Years of Ceramics at William & Mary

Gallery of Alumni Art
Andrews Gallery
Marlene Jack: Retrospective
Muscarelle Museum of Art
Exhibiting Artists
Kirsten Bassion (1999-2002)
Birdie Boone '94, Art
Andrew Coombs '03, Philosophy
Angela Cunningham '99,         Philosophy
Zach Dunn '05, Economics
Michelle Erickson '82, Art
Patricia Fay '80, Art
Rick Hoffman '84, Art
Marc Leuthold '85, Art
J.J. McCracken '95, Anthropology
Anna Metcalfe '01, English
Jesse Ross '99, Art
Shoji Satake '96, Art/Government
Beth Turbeville '82, Psychology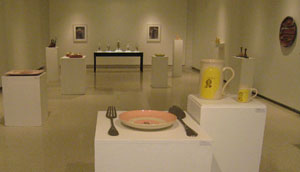 A look back at Marlene Jack's decades-long career as a professor and artist reveals ripples of influence that have traveled far and wide.
In spring 2011, Professor Jack celebrated the achievements of 14 former students in a special exhibition titled The Old Power Plant: 35 Years of Ceramics at William and Mary, held March 31 to April 22 at Andrews Gallery. View Exhibit Gallery
Professor Jack invited former students who have followed a career path in ceramics – as teachers, as full-time studio artists, or in some other significant direction involving artistic work in clay. The exhibition highlighted the talent and perspective  these former students now bring to their own work, demonstrating a mastery of their craft that Jack initially helped them to develop.
"Teaching takes on special meaning in the context of creative work," says Jack. "As I retire from my teaching career, it's enormously gratifying to see what varied and accomplished artists my former students have become. I know my experiences and connections with them over the years continue to form me as an artist as well. I have learned as much from them as I hope they ever learned from me."
As part of the exhibit, two of the artists returned to campus and presented lectures about their work.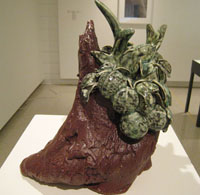 The professional career of Shoji Satake '96 took him to the art department of West Virginia University, which has established a strong study abroad ceramics program in Jingdezhen, China.
In a March 24 talk titled Dual Identity: Finding a Voice in Your Art at Andrews Hall, Satake shared his experience working with China's famed Jingdezhen Ceramic Institute, where students have the opportunity to study with some of China's most prominent teachers and ceramic artists.
"WVU China Program offers a unique opportunity to work side by side with master artists and craftsman and to learn the secrets and sensibilities of thousands of years of their traditions and techniques," says Satake, who has conducted workshops and exhibited nationally and internationally.
Satake also spoke about his own ceramic sculpture, which is influenced by his experiences living in both Eastern and Western cultures. Born in Kyoto, Japan, and raised in Anchorage, Alaska, he continues to balance the impact of these different worlds on the aesthetic and conceptual directions of his art.
"The main components of my art re-examine a dichotomy, seeking to create a single environment, the notion of the harmonious existence between two distinct forms," says Satake.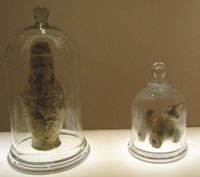 Studio artist J.J. McCracken '95 has developed a career around pushing the boundaries within ceramic art. On April 21, she spoke at the exhibit's closing reception, offering insights into her creative vision.
"I'm completely fascinated by clay," says McCracken, who was recently featured on the cover of The Studio Potter magazine (Winter/Spring, 2010/11). "I like the idea of clay as an experiential poem you can move through. Increasingly, people are my most interesting material."
Hunger, Philadelphia, McCracken's most recent performance exhibit, uses geophagy (clay-eating) to create a visual poem about need. In this provocative project, models covered in liquid clay move through a monochromatic clay landscape eating clay fruits and vegetables, symbolizing excessive consumption of a bountiful, but non-nutritive, food.
In the Andrews exhibition, McCracken showed her MOLD series. She created several sculptures modeled after late-Bronze Age pottery from the cultures that once occupied present-day Iran and Cyprus. Each vessel was made using a mixture of clay and mushed-up Wonder Bread, whose third listed ingredient is corn syrup. Set under glass bell jars, each piece becomes covered in fuzzy, green patches of mold, which slowly feed on the sugars embedded in the clay.
"J.J.'s approach to ceramics is unique, as was that of each of the former students in this exhibition," says Jack. "My first reaction to seeing the show come together in the gallery was one of real pride and affirmation. All of these artists have carved out their way of continuing to work in ceramics as an art form. None of them makes work like my own – which is exactly what I wanted as their teacher. I just planted the seed and gave them a beginning. They did all the rest."
Shoji Satake received a B.A. in Studio Art and Government from William and Mary in 1996 and an M.F.A. in Ceramics from Indiana University, Bloomington, in 2004. He teaches ceramics at West Virginia University and currently serves as director-at-large for the National Council on Education for the Ceramic Arts (NCECA) board of directors.
Based in Washington, D.C., J.J. McCracken received a B.S. in Anthropology from William and Mary in 1995 and an M.F.A. in studio arts from George Washington University. She is an artist-in-residence at Red Dirt Studio in Mt. Rainier, Maryland, and teaches at Virginia Commonwealth University, George Washington University, Montgomery College, and Hood College.