Professor Voigt to Retire in 2011

Chancellor Professor Mary Voigt will retire at the end of the 2010-11 academic year, completing a distinguished tenure at the Department of Anthropology. Voigt joined the faculty in 1990 as an associate professor, with previous appointments at the University of Pennsylvania, Bryn Mawr College, and Vanderbilt University. She served as department chair from 1996 to 2002 and as director of the department's graduate studies from 2002 to 2008.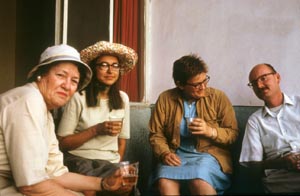 In 1968-69, while still a graduate student at the University of Pennsylvania, Voigt lived in northwestern Iran and co-directed with Anthropology Professor Robert Dyson, Jr., an excavation at Hajji Firuz Tepe in the Gadar River valley. The site yielded evidence of a Neolithic village that was occupied in the second half of the sixth millennium BCE and provided the basis for Voigt's Ph.D. dissertation (1976) and her subsequent analysis of the excavation results in the volume, Hasanlu I:
Hajji Firuz Tepe, Iran: The Neolithic Settlement (U. Penn. Museum of Archaeology and Anthropology, 1983, 528 pages). In her last visit to the site, in 1977, she worked on a surface survey as part of planning a new project. These plans were truncated by the Iranian Revolution in 1978. 
"Learning to direct an excavation was a great experience for me. Alongside the physical work and analysis there's a lot of teaching and learning from each other. Excavations are the field schools of anthropology, and project teams forge professional connections that extend throughout the academic world," Voigt noted.
The Hasanlu project was sponsored by the Penn Museum, where Dyson, now retired, served as curator of the Near Eastern Section and as director. This three-way association of Voigt, Dyson, and the Penn Museum has formed a decades-long collaboration.
In the 1980s Voigt and Dyson worked together to establish a definitive archaeological chronology of Iran and subsequently published a lengthy article supported by tables and charts summarizing the relationship between regional sequences (Chronologies in Old World Archaeology, U. of Chicago Press, 1992).
"Mary's always been a little feisty. Working on the chronology we would have these terrific explosions, " Dyson noted.
"We were both very passionate about this work. One time we emerged from Bob's office to discover the front-office staff cowering in fear," Voigt said. "We came up with the code word krakatoa to alert each other when things might be getting out of hand."
Voigt's subsequent research involved a major commitment to the excavation at Gordion, located southwest of Anakara, Turkey. The site was settled ca 2,500 BCE and during the ninth and eighth centuries functioned as the administrative center of the Phrygian kings, including the quasi-legendary King Midas. It was also home to the famous Gordion knot associated with a wagon that stood on the city's acropolis. In the third century BCE Gordion was settled by European immigrants, the Galatians, who left remains of ritual practices such as head hunting and human sacrifice (see related article). 
Voigt has directed the Penn Museum's excavation at Gordion since 1988, introducing stratigraphic excavation techniques and sorting out the chronology of previous excavation work. According to Dyson, "Mary was one of a very few American women at that time to attain status within the academic world of archaeology, and one of the earliest to make a reputation for herself." In 1990 she accepted the faculty position at William and Mary, and in 2000 she was appointed as a Chancellor professor.
"I wanted to teach students across the broad spectrum of anthropology and not just in the context of field work," Voigt said. "William and Mary was an ideal choice, with our blended emphasis on both research and teaching." Several W&M anthropology students have assisted in summer projects at the Gordion site.
Long-time colleague Barbara King, Chancellor Professor of Anthropology, observed: "Mary has insisted that our students think about past human societies in broad terms, that is, in terms of the major questions about being human that animate anthropology as a whole, and also of how we anthropologists produce and use knowledge."
"She has been an incredibly generous colleague, both intellectually and in terms of her time. If you walk into Washington Hall and see a worn space in the floor tiles between rooms 102 and 103, that's because over the years I've so often gone from my office to Mary's to seek advice and counsel."
Voigt's plans include continued research and writing for the Gordion project; work on the editorial boards of Paléorient (CNRS, Paris), Abr-Nahrain (University of Melbourne), and Journal of Eurasion Prehistory (Harvard University); and service on the advisory board of the American School of Prehistoric Research at Harvard University.