Kathleen Bragdon Collaborates with the Mashpee Wampanoag Tribe in Land-into-Trust Project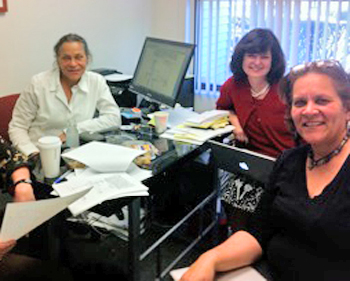 Since 1978, native communities located primarily in the Eastern United States have been able to petition the Department of the Interior for Federal Recognition as an American Indian tribe. Most eastern groups have been deprived of their land base as the frontier moved west, or have very small reservations or reservations that cannot support their populations.  The Land-into-Trust process overseen by Interior's Office of  Acknowledgement allows recently recognized tribes to acquire "initial reservation" land. Since 2007, when the Mashpee Wampanoag Tribe of southeastern Massachusetts were acknowledged as an American Indian tribe, they have been seeking such a reservation, in spite of a 2008 Supreme Court Decision, Carcieri vs. the Narragansett Tribe, that calls into question the legality of enabling land into trust for tribes acknowledged after 1934, during the period of the Indian Reorganization Act.
      Bragdon, a specialist in Northeastern ethnohistory, had long been interested in the Mashpee tribe, and was delighted when contacted early in 2012 by tribal members Ramona Peters, an historian, and Jessie Little Doe Baird, an Algonquian language expert and recent MacArthur Award winner, to collaborate with them on preparing a report in support of acquiring land into trust in Taunton, Massachusetts. This property will be the location of a Massachusetts state-sanctioned casino, the income from which will support many tribal initiatives such as creating conservation areas, supporting higher education for tribal members, and supporting a museum and cultural center while also providing much needed employment opportunities and tax revenue for the region.
      Working through the summer with Peters and Baird, Bragdon authored a 300 page report arguing for the legitimacy of Mashpee claims to land in Taunton and developing arguments in anticipation of potential challenges based on the Carcieri decision. Using documents, archaeology, linguistics, and oral history, the team produced a paper that has been the foundation of the tribe's claim. The success of this paper was demonstrated by the recent OIA decision to support the tribe's land into trust petition, issued on February 10, 2013.
      "The Mashpee Wampanoag have been working since 1978 to achieve recognition and to recover some of the lands their ancestors once claimed," says Bragdon. "It is a privilege to be able to do something meaningful for the tribe, rather than merely to use their history for my own academic purposes."
      The Mashpee still face many hurdles in their quest for a reservation. In addition to the Carcieri challenge, the State of Massachusetts must issue a gaming permit, still controversial in the Bay State. Bragdon notes, however, that the Mashpee Wampanoag have never shied from controversy, and are truly the authors of their own success.