Forensic Career Begins at William and Mary
We love to show case our alumni, and  Robert Mann provides a fascinating example of the unexpected turns careers can take.  If you've got a story about how anthropology has affected your life, please share it with us so we can keep publishing these accounts!  Here is Bob's story in his own words.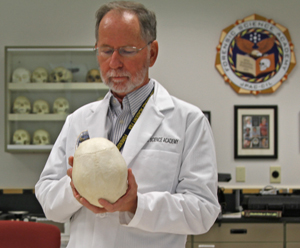 "As a high school dropout in the 1960s, I wasn't the typical college student and certainly not the typical William & Mary alum.  I entered W&M in 1978 not knowing where my life was headed or what I wanted to do, but college was my next step.  My first class in osteoarchaeology, the study of bones and archaeology at W&M put me on a path of learning, mystery and intrigue beyond my wildest dreams and expectations.  For example, I was amazed to learn that a single human bone can hold clues to a person's identity, how they died and more. 
      "I left Williamsburg in 1983 for the University of Tennessee (UT), Knoxville and entered the world of forensic anthropology and the famed "Body Farm."  Earning my bachelor's and master's degrees in physical anthropology, I left UT to work at the Shelby County Morgue in Memphis, before going on to the Smithsonian Institution in Washington, DC.  While at the Smithsonian I assisted with the excavation of cemeteries, examined skeletons from around the world, traveled to Easter Island where I met Thor Hyerdahl of Kon Tiki fame, and assisted with the identification of serial killer Jeffrey Dahmer's first victim.
      "In 1992, I accepted a position as an anthropologist at the Joint POW/MIA Accounting Command (JPAC-CIL) in Hawaii, the lab responsible for finding, recovering and identifying America's missing heroes from all past wars.  Over a period of 21 years I moved up the ladder to Deputy Scientific Director and most recently, Director of the DoD Forensic Science Academy.  Continuing along my unusual academic path, I obtained my PhD in anthropology from the University of Hawaii at age 51 and a decade later was inducted as a Fellow in the College of Physicians of Philadelphia, the first anthropologist in its 200 year history.
    "Being an anthropologist has been a wonderful adventure and an incredible journey that's taken me from the jungles of Southeast Asia to the farthest corners of Siberia in search of America's missing heroes from past wars.  The crowning glory of my years at JPAC was serving on the team that identified the remains in the Tomb of the Unknown Soldier in Arlington National Cemetery.   Despite getting a late start in academia, I have no regrets for my chosen career, only thanks, and it all began with an introductory archaeology class at William & Mary, my fondest alma mater."