An interview with Alena Stern '12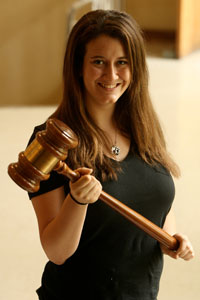 Why did you choose William & Mary?
I was completely convinced about William and Mary after meeting so many members of its faculty during Murray Scholar Finalist weekend. Throughout the course of the weekend, all of the finalists got the opportunity to spend time with several professors. I was struck by how brilliant everyone was, yet so down to earth and willing to engage students in intellectual dialogue as peers and listen to what we had to say. I thought that if this is how professors treated prospective students, William & Mary students must have an incredible, enriching, and personal academic experience. I certainly have not been disappointed.
What was the aspect of the Murray Scholarship that attracted you most?
No doubt you all are aware of the financial benefits and other tangible benefits of the Murray Scholarship (which certainly don't hurt!), what may be less apparent from the facts and figures is the community the Murray Scholarship offers. Being an out of state student all the way from Colorado, I was really attracted to the notion that I would arrive on campus already with 15 friends and an advisor who was personally invested in me and my academic achievement. However, I have come to gain so much more from the Murray Scholar community. I have found a group of people who constantly amaze me with their brilliance and inspire me to make the most of every opportunity-laden moment at William & Mary and a program director that is willing to go to bat for you in any way to help you make the most of your William & Mary experience. That being said, the benefits of being able to take whatever classes you want with priority registration cannot be overstated! It truly allows you to get the most of the academic opportunities that W&M has to offer.
What scholarly activities have you been involved in on campus?
One of the other things that truly impressed me about William & Mary was its emphasis on undergraduate research. It truly is a unique combination of the research emphasis of a big state university with the academic spirit of a liberal arts college. I have been working for an International Relations professor who I met over Murray Scholars finalist weekend, which actually allowed me to get involved with research fairly immediately after arriving on campus my Freshmen year.  I am part of an International Relations research institute, and am specifically researching in the areas of foreign aid and development, member behavior in international aid organizations, and the relationship between the academic world of international relations and foreign policy.  Additionally, I have been involved in the William & Mary debate team, Young Democrats, and Hillel.
What other aspects of William & Mary have been important to you in your first year?
The academic excellence of William & Mary is apparent from glancing over the facts and figures from the admissions office. But if that hasn't convinced you enough and you are still deciding whether to apply, the answer is an emphatic YES! I wound up here somewhat by chance, and largely because I was lucky enough to be named a Murray Scholar, but immediately from stepping on campus I haven't looked back. What cannot be gleaned from the facts and figures however, is the incredible community in which you find yourself as a member of the Tribe. While community is a bit of a buzz word at William & Mary, it is a concept that is profoundly vivid to every William & Mary student. I have been amazed by the intelligence and humility of all of my peers, and have loved learning from their diverse blend of perspectives and experiences. I have never felt ashamed to reveal that I'm a Murray Scholar to any of my peers, because I know that my "status" will not be met with competition but with support. I truly believe that William & Mary offers a unique community, the value of which I cannot state enough.
What is an example of something you've done as a Murray Scholar at W&M that you couldn't have done somewhere else?
 Well for one I never would have found myself having lunch with Chancellor Sandra Day O'Connor (please excuse the shameless name dropping!).  Additionally I would not have gotten to take all of the courses I wanted my freshmen year without the benefit of priority registration.  Certainly the exclusive events and access to speakers that the Murray Scholarship offers has enhanced my freshmen experience, but the greatest benefit that I have reaped from the Murray Scholarship is the ease with which it immediately plugged me into the William & Mary community.  I felt as if I skipped the awkward freshmen feeling of being on the fringes of campus life and was able to jump right in to the heart of it with the help of Dan and the connections being a Murray Scholar allowed me to make.  Getting involved in research so quickly (which is certainly not exclusive to Scholars, but was aided by being one) was one of the best experiences of my freshmen year.  Being in an academic community where professors take you out to dinner to ask you for your ideas for research and actually listen to what you have to say has been an incredible experience, and I can't wait for the next three years!
Read more about Alena
Read an article about Alena from the Reves Center
Read interviews with other Murray Scholars