History of W&M Mascots and Nicknames
The Special Collections Research Center (SCRC) Wiki offers a more complete history of W&M mascots. This shorter summary was prepared by University Communications in 2007.
1896
The W&M football team was nicknamed "The Orange and White" after the team colors.
1909
The uniform colors changed to the "Orange and Black," because the white became dirty too quickly, according to one report. The team was consequently called "The Orange and Black."
1916
The nickname "Indians" was first referenced in the 1916 edition of the Colonial Echo referring to the basketball team. The teams adopted the nickname and a logo of an Indian with a knife and tomahawk.
1923
The university earned the nickname "Fighting Virginians" from the "Northern Press" as a result of the team's effort in a 24-7 loss to the Syracuse Orangemen.
1924
William & Mary's colors were changed to green, gold and silver. The colors came from W&M's coat of arms. The change was officially made so that the university and athletic colors would be identical.
1924
The term "Tribe" was first referenced in the 1924 edition of the Colonial Echo. Other nicknames that were given to the university's teams during this time period and the years following it include Big Green, Braves and Warriors.
1927
A 17-foot alligator named "Cal" served as W&M's mascot.
Late 1930s to 1942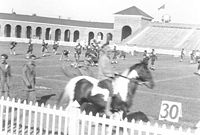 An Indian pony WAMPO was used on the sidelines as a mascot. The pony often carried a rider in full Indian attire. WAMPO's name was derived from "William And Mary POny."
1947
One sports write dubbed the W&M football team "The Big Green Indians" during its first post-season bowl bid.
1953
The team became known as the "Iron Indians," after the name appeared in a Richmond Times-Dispatch article.
Mid-to-late-1960s to mid-1970s
A caricature similar to that used by the Cleveland Indians was used as a logo.
1974
A "WM" with feathers logo first appeared in a 1974 Football Yearbook and then on the helmets of the 1977 football team.
1978
The Indian images were removed from the athletic logo. The term "Indian" was phased out by the early 1980s. The "WM" with two feathers became the university's official new logo, and the term "Tribe" continued to be used.
1989
A committee to examine school spirit and tradition was convened to discuss whether the Tribe nickname should be phased out.
2001 to 2005
A green costumed character named Colonel Ebirt began serving as an unofficial mascot. The character's name is derived from the word Tribe spelled backwards.
2006
In May, the National Collegiate Athletic Association determined that William & Mary could keep its Tribe nickname but had to do away with its logo because it could be offensive. The university appealed the NCAA decision but received notice in August that the appeal had been denied.