Art professor celebrates 37-year career with exhibition
An exhibition celebrating the 37-year career of Marlene Jack, William & Mary professor of ceramics, opens Saturday, April 16, at the Muscarelle Museum of Art. The exhibition will be on display through Sunday, June 19. Jack will present a gallery talk and tour of her exhibit at 5:30 p.m. on Wednesday, April 27. The talk and tour is free and open to the public.
Marlene Jack: Retrospective showcases functional works designed for the domestic environment as well as figurative sculptures. Her work, she says, is influenced by many things, including the long history of pottery traditions in different cultures, but with a contemporary flare. She looks to Japanese folk pottery and objects from the Arts and Crafts Movement and Modernism periods, and is also inspired by everyday objects that can be found at flea markets, which is evident by the old fabricated metal pouring pots lined up on shelves above windows in her studio.
"My pots are one way I define myself and connect with other people," said Jack. "They are about touch and use, the life of the kitchen and the pleasures of the table. They are also about the potential to enrich and awaken the routines and rhythms of our domestic environment and bring art, beauty, and intelligence to our daily private lives."
Jack's sculptures look more inward, as she describes their ability to provoke intimate, psychological responses based on each viewer's own personal history and experience. These sculptural works address issues of fear, luck, loss and time. The angles and curves of architecture play a role in the underlying structure of her forms and small details are used for emphasis or focus, in an attempt to use embellishment while aiming for quiet, subtle restraint.
Jack began teaching ceramics at William & Mary in 1974, the same year she received an MFA from the University of Minnesota. She will retire from full-time teaching at the end of this semester, but will continue to teach part time at the College.
She has served as a visiting artist and teacher for both William & Mary and University of Georgia summer abroad programs in Urbino and Cortona, Italy, respectively. Her work has been shown extensively throughout the United States in galleries and museums, and has won numerous awards, grants, and honors. Jack's commitment to education in the ceramic arts includes an active role with the National Council on Education in the Ceramic Arts (NCECA) who recognized her contributions in 1989 by naming her a lifetime "Fellow of the Council."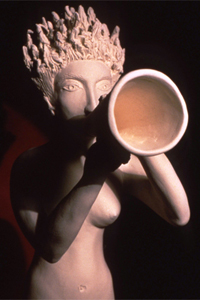 "Marlene has been an integral member of the Studio Art faculty for the past three decades," said Aaron De Groft, director of the Muscarelle Museum of Art. "This exhibition provides an insight into the gentle balance her works embrace between functional and sculptural ceramics, and how she has developed as an artist." 
Taking advantage of the science behind ceramics, the Museum will offer a series of day-length field trips to 800 local elementary school students to teach children about the science behind art.  Included in the program will be geology lessons on clay (including how clay is formed and fired), math lessons on perspective, and physics lessons on the color spectrum.
The Muscarelle Museum of Art is located on Jamestown Road on the campus of the College of William & Mary in Williamsburg, Va. The Museum is open from 10 a.m. until 5 p.m. Tuesday through Friday and noon until 4p.m. on Saturday and Sunday. The Museum is closed on Mondays. Docent tours are available at 1p.m. on Saturday, Sundays and other times as announced. Admission to the Museum is normally $5, though during special exhibitions, admission is $10. Admission is free for Museum members, William & Mary faculty, staff, and students, and children under 12. For more information about this exhibit or the Museum, call 757-221-2700 or visit www.wm.edu/muscarelle.