William & Mary hires chief financial officer
William & Mary has hired a chief financial officer.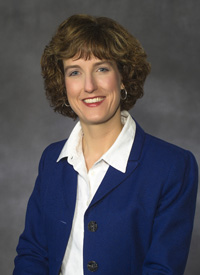 Amy Sebring M.P.P. '95, senior associate dean for finance and administration at Virginia Commonwealth University School of Medicine and executive director and chief operating officer of MCV Physicians, will begin her work at William & Mary in January 2016. The CFO position is a new one at the university, and Sebring will be the first to hold it.
"William & Mary is fortunate to have someone of Amy's caliber return to campus," said Sam Jones, senior vice president for finance and administration.  "Her experience at both the central state and operational levels made her the perfect choice for the newly created chief financial officer position. Amy's energy and enthusiasm for the university, and this position, are contagious."
In her role at William & Mary, Sebring will provide direction and leadership for the university's financial operations and oversight of budget development and execution, financial operations and procurement.
"I'm very excited to be serving in this new role at the College," Sebring said. "William & Mary is at a critical juncture in facing the challenges of preparing students to be leaders in an increasingly complex world.  Strong stewardship of the College's resources will be essential as it meets those demands."
Sebring comes to William & Mary with considerable experience in financial management and administration for higher education and healthcare.
She has served at the Virginia Commonwealth University School of Medicine since 2006. In her current role there, she is responsible for the financial management of the medical school, operational oversight of the physician practice plan, budgeting, strategic planning, human resource management, information technology, space planning and general administration. She also serves as the chief finance officer for UHS-Professional Education Programs, an affiliated non-profit organization responsible for continuing medical education programs.
Prior to her time at VCU, Sebring worked as a legislative fiscal analyst for the Virginia Senate Finance Committee during the 2003, 2004, 2005 and 2006 sessions, focusing primarily on budget and legislative issues related to higher education and debt finance. Before that, she was the finance policy director at the State Council of Higher Education for Virginia (2000-2002), a budget analyst for the Virginia Department of Planning and Budget (1997-2000) and a research associate for the Education Commission of the States (1995-1997), a national non-partisan policy organization located in Colorado.
Sebring is the current chair of the Association of American Medical Colleges' Group on Business Affairs and is a member of the Association of Practice Plan Directors. She earned her undergraduate degree from Duke University in 1993 and her master's degree in public policy from William & Mary in 1995. She also holds a post-baccalaureate certificate in accounting from VCU.
"William & Mary has always been a special place for me and my family.  I look forward to being back on campus and contributing to the College's future."