Aceto Award honors Zuber's service to students' writing
Students coming to the William & Mary Writing Resources Center for help leave feeling better than when they arrived. Sharon Zuber makes sure of that.
Her overarching commitment to a positive experience runs through everything the longtime faculty member touches. For that, she was selected as the 2018 recipient of the Shirley Aceto Award.
The Aceto Award is presented annually to a member of the instructional or professional faculty who demonstrates an exceptional commitment to excellence in service to the campus community. Zuber, senior lecturer of English and film and media studies and director of the Writing Resources Center, will receive the honor at a May 29 reception.
Though she has taught various subjects and served in dual positions, the WRC on the first floor of Swem Library is the centerpiece of Zuber's role on campus.
"What I feel is that the writing center pulls all of my interests together," she said.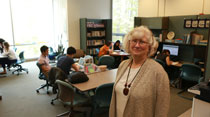 While working on her master's thesis, Zuber taught in a startup writing program and was hooked.
"I realized I just fell in love with teaching writing and working with the students because writing is thinking," she said. "And every time you see a student and that light bulb goes off that they make a connection — whether it's to information they've had in another class or just something even about their own life through learning about literature or writing a reflection — to me that was really exciting."
She has made the WRC a refuge of positive reinforcement for those coming in for help as well for the students who work there. They are known as consultants and are trained on how to help their peers with anything from a PowerPoint or application letter to an academic essay.
Kathleen Mann '18 worked in the WRC all four years at W&M, first as a consultant for two years and then as an administrative assistant the last two.  She said she immediately found a home at the center as a freshman.
"Something that Professor Zuber stresses during our training as writing consultants is that compassion should be at the heart of every piece of feedback that we give," Mann said. "Over her decades-long commitment to the writing center, she has also ensured that the writing center is a comfortable place for consultants to grow — not only as writers and tutors, but as people.
"I view my time at the writing center as an integral aspect of my experience at W&M."
Zuber served as freshman academic adviser as well as WRC supervisor for student and consultant Graham Bryant '13, J.D. '16, now an attorney in Richmond, Virginia. She helped him plot out a writing-intensive course load to start his W&M career, and they worked together through two summers in the center as he completed Monroe Scholar projects.
"She was just a great mentor and confidant," Bryant said. "Any time I had questions about anything from just normal academics to surviving college, she would always be there at the writing center and always had time to lend an ear."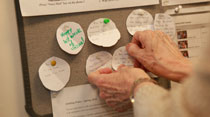 Cody Sigmon '13, said he is one of many who chose to follow Zuber's example and pursue a life of service. He is now an 8th grade English teacher in Chester, Virginia.
"As a professor, writer, advocate, curator, documentarian, mentor, colleague, confidant, leader and visionary, Professor Zuber's touch has been felt not only at the College of William & Mary, but in her community in Gloucester, Virginia, as well," Sigmon said.
"The countless mentors and scholars whose skills blossomed under Professor Zuber's influence are a testament to her tireless ubiquity and dedication to everyone with whom she interacted."
The writing center reflects Zuber's vibe. The welcoming space is dotted with positive messages and spots to informally gather, all of which are designed to make visitors feel comfortable.
Zuber said that the writing and composition discipline has gradually changed from emphasizing grammar to seeing writing as a process, looking at the writer and mentoring them through the process. That's where the caring comes in, in helping discuss the larger ideas rather than using a sentence-by-sentence editing process.
"I love working here because we're mentoring students in the communication process," said Zuber, who points out that the process now covers everything from a paper to a podcast. "It's still basic communication skills — helping students prepare to take what they've learned, what they know, what they've researched and somehow communicate it to someone else.
"Everything I've done in teaching the process, whether it was in film or teaching writing and literature courses, comes together here in the writing center in the way that I train undergrads to work with other undergrads."
Her favorite part is the ripple effect or improved writing flowing out across all departments.
"What we're doing is working with the person to help them," Zuber said. "If they just come away with one new skill, one new way to revise, one new way to think about something, then we've empowered them as writers, learners."